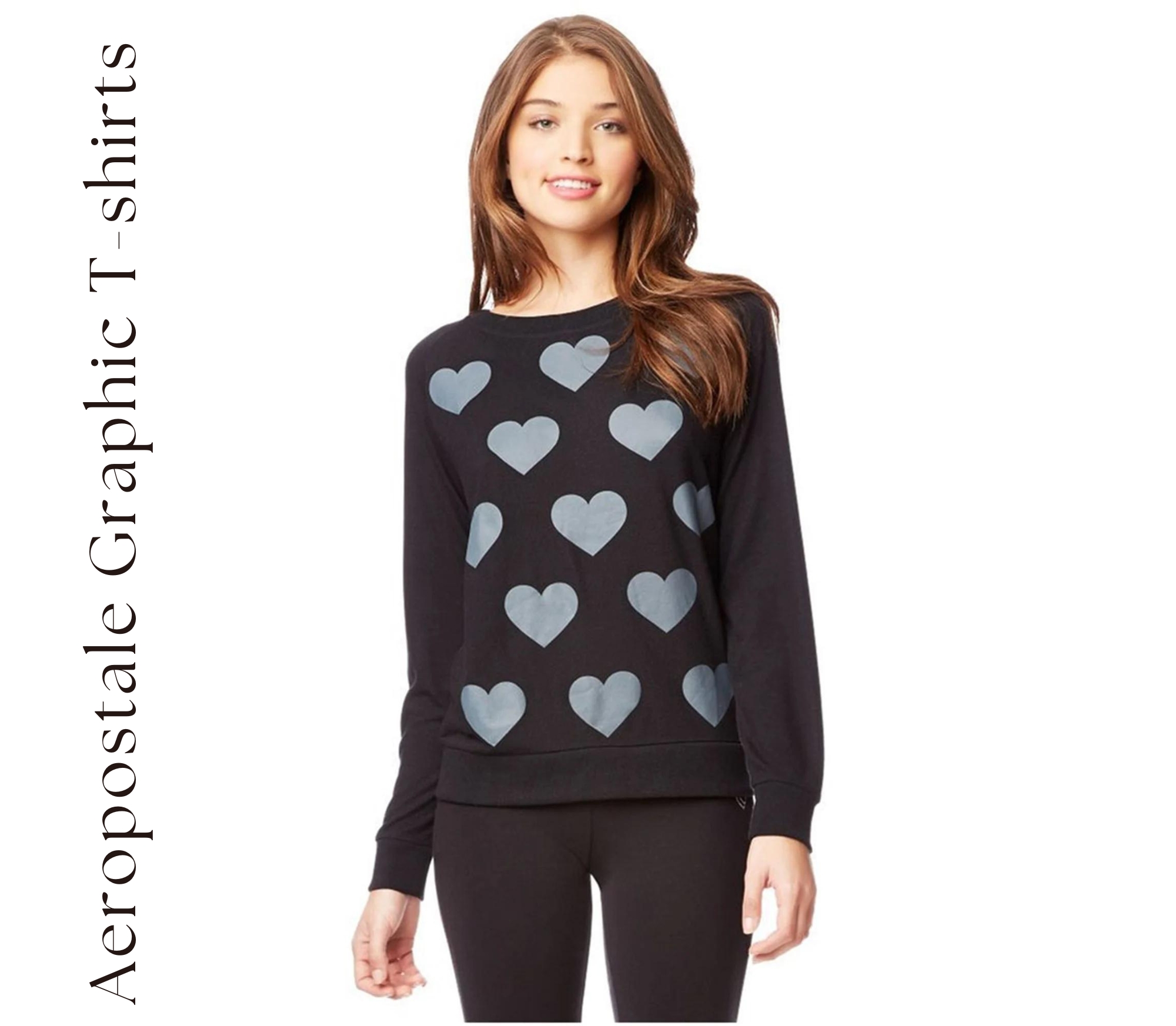 You know when you are at home and none of your new tops & tees feel comfortable enough so you just end up wearing that centuries-old, torn t-shirt to feel relaxed?
Well, not anymore, because Aeropostale Women T-shirts offer you the ultimate comfort and style, both in one. So feel pretty and relaxed in these trendy graphic t-shirts all evening!
Striped Graphic Tee
If you are looking for something cool to wear casually outside, then this geometric pattern graphic t-shirt is the right way to go.
Offering you ultimate comfort with snazzy style, this shirt will be your next favorite top. Why? Because it has a unique design, it has cap sleeves that are perfect for a hot summer evening, and the color combo is just gorgeous!
Metallic Graphic T-shirt
For an event like a date night, a dance party with friends, or getting drinks at your local bar, this metallic graphic t-shirt will be a perfect fit for you.
The ¾ sleeves are super stylish, and the black color looks elegant if paired with the right pants. You can even wear this top with a skirt to a farewell party or a dance. It is comfortable and looks fabulous too, so it's a win-win!
Full Sleeved Graphic T-shirt
For a comfy evening in with the girls, or for a casual shopping trip to the mall, this full-sleeved graphic t-shirt is great. Patterned with hearts all over, this gives an ultimate feminine vibe and you can pair it with some ripped jeans for a casual yet cool look. 
If you have been trying to find something to wear on some breezy evenings, this will be a perfect top for you!
Bodycon Graphic T-shirt
A bodycon shirt is an evergreen top, and this striped bodycon graphic t-shirt is the epitome of classic fashion.
Hugging your body perfectly, this top is a great way to flaunt the body that you have worked so hard on. This not only boosts your confidence, but also it promotes self love and positivity about all body types and shapes!
Pair it with some classic jeans and a scarf, and you're all set for a nice, cozy lunch with your besties!
Camo Lace Graphic T-shirt
For a bold evening out, this pretty camo print lace graphic t-shirt is a great top for your everyday wear. Super breezy and comfortable, this stylish top pairs flawlessly with some black denim pants, strappy heels, and some statement jewelry.
It will make up a stunningly bold outfit for your lunches and outings– given that you accessorize it well!
Mock Neck Graphic T-shirt
Lately mock necks have been very hip and trendy, and that's why this mock neck graphic t-shirt is one of the best tops for everyday wear.
Not only is it super trendy, it offers immense comfort and as you wear it, you feel confident about yourself! Pair it up with some skinny jeans, large hoops, and combat boots for a funky, trendy, and bold look!
Muscle Graphic Tee
It can be pretty difficult to find a sassy top for super hot summer days, but worry not because this muscle graphic tee is here for the rescue.
With a funky print in the middle, this sleeveless muscle graphic tee will be your go-to top for concerts and rave parties, giving you some classic Avril Lavigne vibes! Paired with black ripped jeans, this top will be show-stealer!
Women's Cold Shoulder Crop Graphic T-shirt
Women's cold shoulder graphic t-shirt is the hot-selling piece from Aeropostale. Extremely snazzy, breathable, comfy, and stylish, this graphic t-shirt is perfect for a night out with friends, or if paired with a blazer, great for dates too!
Wear this top to the movies, paired up with some cargo shorts or jeans, throw on a scarf around your neck, and add some classy jewelry to finish off the look!
Hooded Graphic T-shirt
A quite unique style came into the market when Aeropostale came out with this casual hooded graphic t-shirt. Giving you the ultimate hipster vibes, this hooded top is a great fit for your everyday shenanigans.
Offering a comfortable and breathable fabric, chest pockets, and a tiny logo at the side, this top would look amazing paired up with contrasting jeans, and some super cool sneakers!