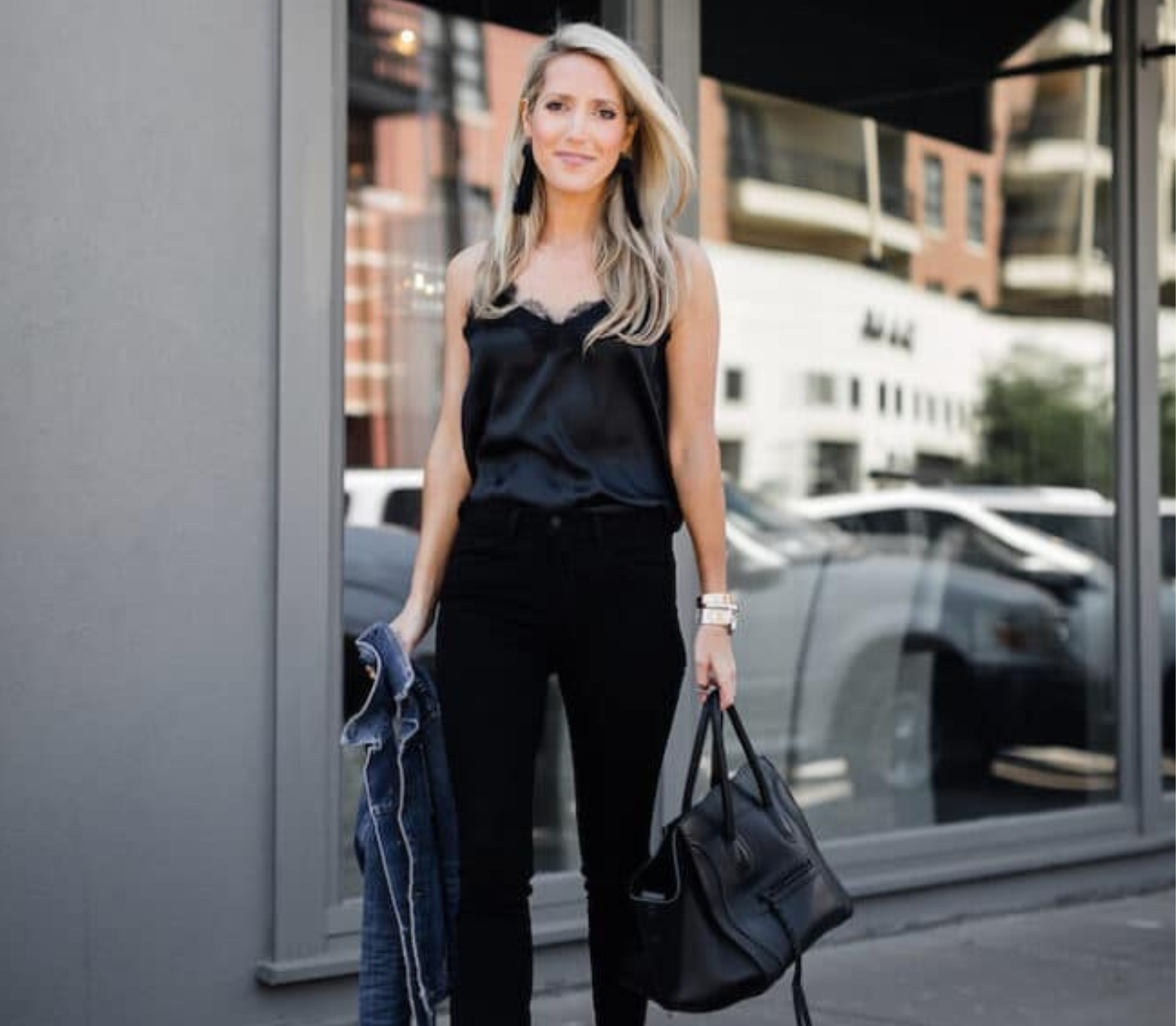 Styling a basic tank top into something unique and eye-catching is something not everyone can do. If you can pull off a simple tank top flawlessly, then just think about what else you can conquer in the fashion world!
This Aeropostale tank top is their hot-selling item and I will show you how you can style this in different ways and make heads turn wherever you go.
Style Your Tank Top Fashionably!
With these super cool ideas, you will be the fashion icon of your generation. Style your Aeropostale tops with these ravishing accessories, bottoms, and outerwear!
Outerwear:
Corduroy or Denim Jackets
Tank tops are great on their own but what if it's a bit chilly out there? That's where layering comes in!
Donning a cool denim jacket with a tee is too mainstream, but it looks absolutely gorgeous over a tank top. This black tank top would go flawlessly with a minimalistic denim jacket and you can spruce up the whole look by adding some soft makeup!
Cropped Sweaters
Cropped sweaters are my go-to outerwear for any casual outing. Their fitting is perfect and I love how a little part of your tank top is visible from the bottom and it just does color breaking flawlessly.
This classic striped cropped sweater would look amazing with the Aeropostale tank top. The black and gray-white combo is sophisticated yet very stylish. You can even wear it unbuttoned if you'd like!
Unbuttoned Shirts or Flannel Shirts
My favorite way to style a basic tank top is to wear it underneath an unbuttoned shirt or a flannel shirt. I often borrow my brother's shirts as a matter of fact, to pair with my tank tops and they look stunning!
It's a perfect way to style a casual outfit with a bit of sass. The checks on this one would go so well with that black tank top.
Bottoms:
High-waisted Pants
Denim or cotton, high-waisted pants, specifically culottes-style are my all time favorite. They enhance the look of your waist and spruces up the whole outfit like nothing else!
This striped high-waisted culottes would be a perfect match with the Aeropostale tank top— you can tuck in the tank and the white base with colored striped would look stunning with black top. What a contrast!
Pencil Skirt For Work
Who said tank tops are only reserved for casual wear or inner wear? You can fashionably style a tank top with a pencil skirt and wear the most classy outfit to work!
Not only will it be unique but it will also make a statement about you being the boss.
This slit pencil skirt is a great match with the black tank. Wear it tucked in, and throw on a gray blazer. You can wear some heels to compliment your outfit and you're good to go.
Cargo Shorts
The most comfortable way to style this Aeropostale tank top is with some nice, comfy cargo shorts.
This white pair of cargo shorts have a soft feel and is very breathable. It would compliment the tank top perfectly because, I mean, black and white is such a classic combination!
Accessories:
Minimalist Jewelry
Jewelry plays a vital role in making your outfit a showstopper. If you don't accessorize well, your fit for the night may end up looking dull and bland.
Minimalist jewelry is very in these days and since the tank top has a deep neck, a delicate necklace would look great. Add some tiny studs to go with it!
Scarf
It's astonishing how a scarf can uplift your outfit immensely. Especially in the case of tank tops, scarves are a great accessory to put on as it offers some color breaking and some sass to the outfit.
You can wrap it around your neck and flaunt the beauty of a simple yet stunning outfit. Try a contrasting color to add a bit of a fun vibe and experiment with different styles!
Sunglasses
Any outfit can be improved by adding a simple pair of sunglasses.
You can wear your favorite pair of shades either the classic way or on your head if the sun's not too harsh. Not only does it look super fashionable, it also protects your eyes from the harmful sun rays so it's win-win!