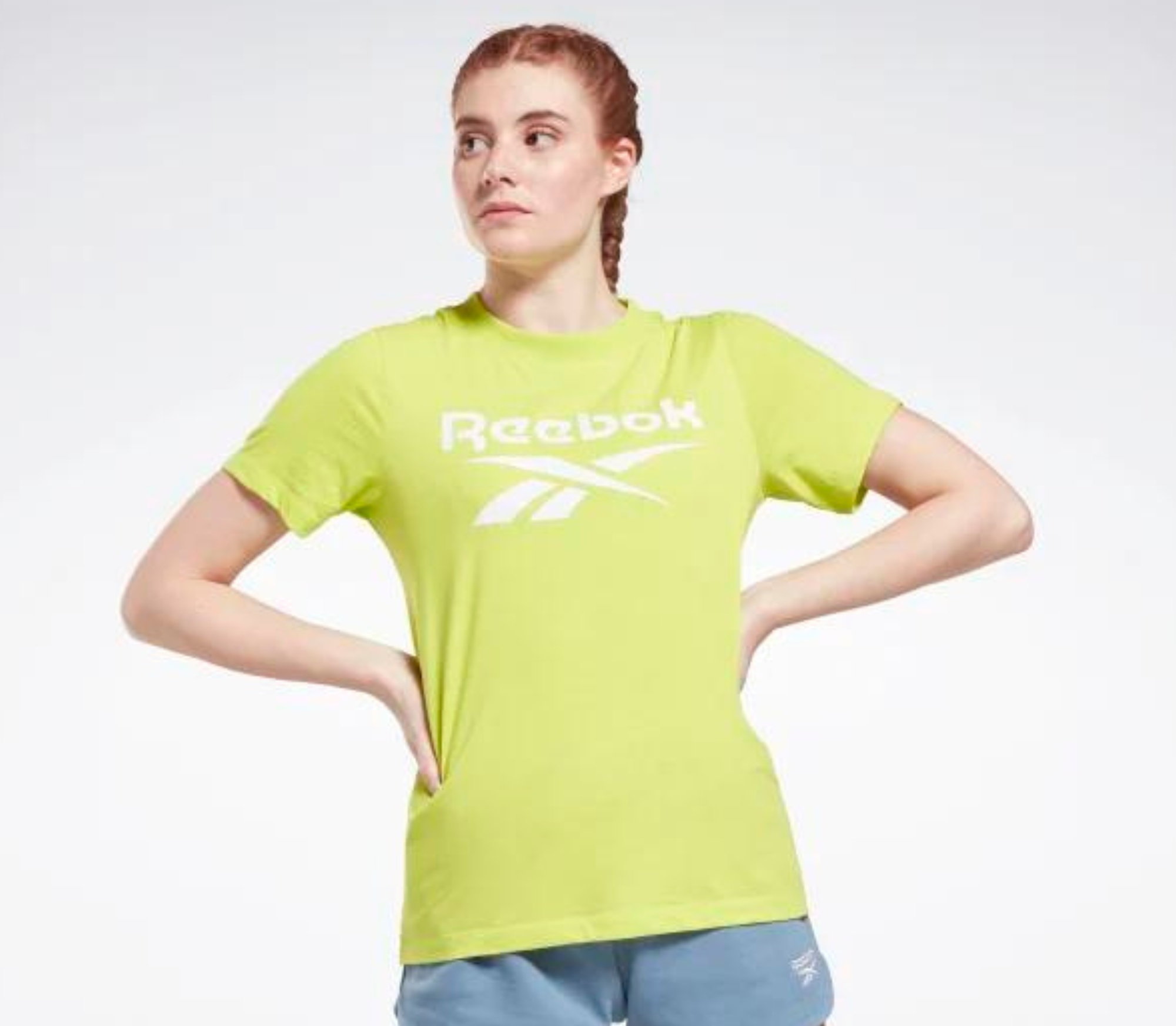 Jersey, cotton, half-sleeve, long-sleeve, sleeveless– you name it and Reebok will present you with its finest collection of basic tees. Along with being super comfortable and stylish, these basic tees are available in lots of colors so you get to choose whatever gives out the "you" vibes.
These tees can be paired up with slacks or leggings and you can even wear them for just a casual run. Explore some of the finest Reebok Women's Tops and refresh your gym wardrobe with some of the most stunning pieces!
Crew-Neck Heathered Tee
This cute, simple yet classy t-shirt is the ultimate way to tell people that you don't take your style lightly. The heathered pattern is perfect for it to be your go-to workout top and the fabric is breathable and stretchable so it would fit your body perfectly. The fabric also absorbs moisture so it'll keep you dry during your workouts– what's better than that? this is also available in various colors too!
Solid Cropped Basic Tee
The cropped style is very trendy these days; almost everything from sweaters to shirts to leggings is offered in cropped cuts. Therefore, this Reebok basic tee deserves to be on the list of your go-to basic tees for workouts.
It is cotton and polyester, a great mix for activewear and you can even style it with cargo shorts or skinny jeans to wear on your shopping sprees if not for working out. But it provides great comfort while exercising because of its relaxed fit– it keeps you cool and airy and hence dry during your workout!
These are quite popular among fitness freaks. These are very casual, basic t-shirts that literally everyone owns (at least one). Of course, they're not specifically reserved for athletic wear but they make a really good fit for your gym.
The logo shows that quality matters to you, and standing out in the crowd will make your whole workout session hassle-free and comfortable.
Logo Basic Tee
The long sleeves make it great for the fall and winter seasons too, and its moisture-wicking fabric keeps you dry throughout.
Sleeveless Basic Tee
When it is hot outside and overall it's a lazy day and you don't feel like hitting the gym, this sleeveless basic tee will get you out of bed.
Workouts refresh you and wearing something cozy and refreshing is always a plus. In hot summers, a sleeveless basic tee will definitely be your go-to workout top and Reebok offers just the right design and fit!
This seamed sleeveless tee is perfect for running and jogging– the fabric absorbs the moisture and it keeps you from sweating excessively, keeping you comfortable!
Women's Jersey Basic Tee
Activewear is best when it is in jersey. I love how breathable the fabric is and how it keeps you happy throughout your workout session, thanks to its moisture-absorbing superpowers!
Available in two colors, this slim-fit jersey tee is your go-to workout top for this season. The stylish high-low hemline and the marled pattern make it super classy and if you're known to be a fashionista, this Reebok women's top is the right fit for you.
Mock Turtleneck Tee
Turtlenecks are not very common in the workout top category but Reebok has planned to change that.
This beautiful running tee is a stunning fit for your daily running routine. You can also wear it to your yoga sessions. The turtleneck makes it very chic and since turtlenecks are very in right now, it keeps you on top of your fashion game.
The fabric is great for all seasons and the thumbholes add a unique look to it. Pair 'em up with some cool track pants to complete the look and you're good to go!
Jacquard Basic Tee
This self-textured basic tee looks absolutely ravishing as a workout top– the light stripes and the crew neck makes it a great design for this purpose.
You can pair this lightweight shirt with some workout shorts for your gym, or you can also style it with some pants to wear when you're just hanging out with friends!
Color Block Basic Tee
It is not a very common concept to have color block shirts as your workout tops. I mean, most people prefer solids or marled patterns. Little do they know that color-block shirts are going to be the next big thing.
This shirt's front pocket makes it highly functional, and the dark colors make it great for evening workouts. Style it up with some track pants or jogger pants and you're good to go!