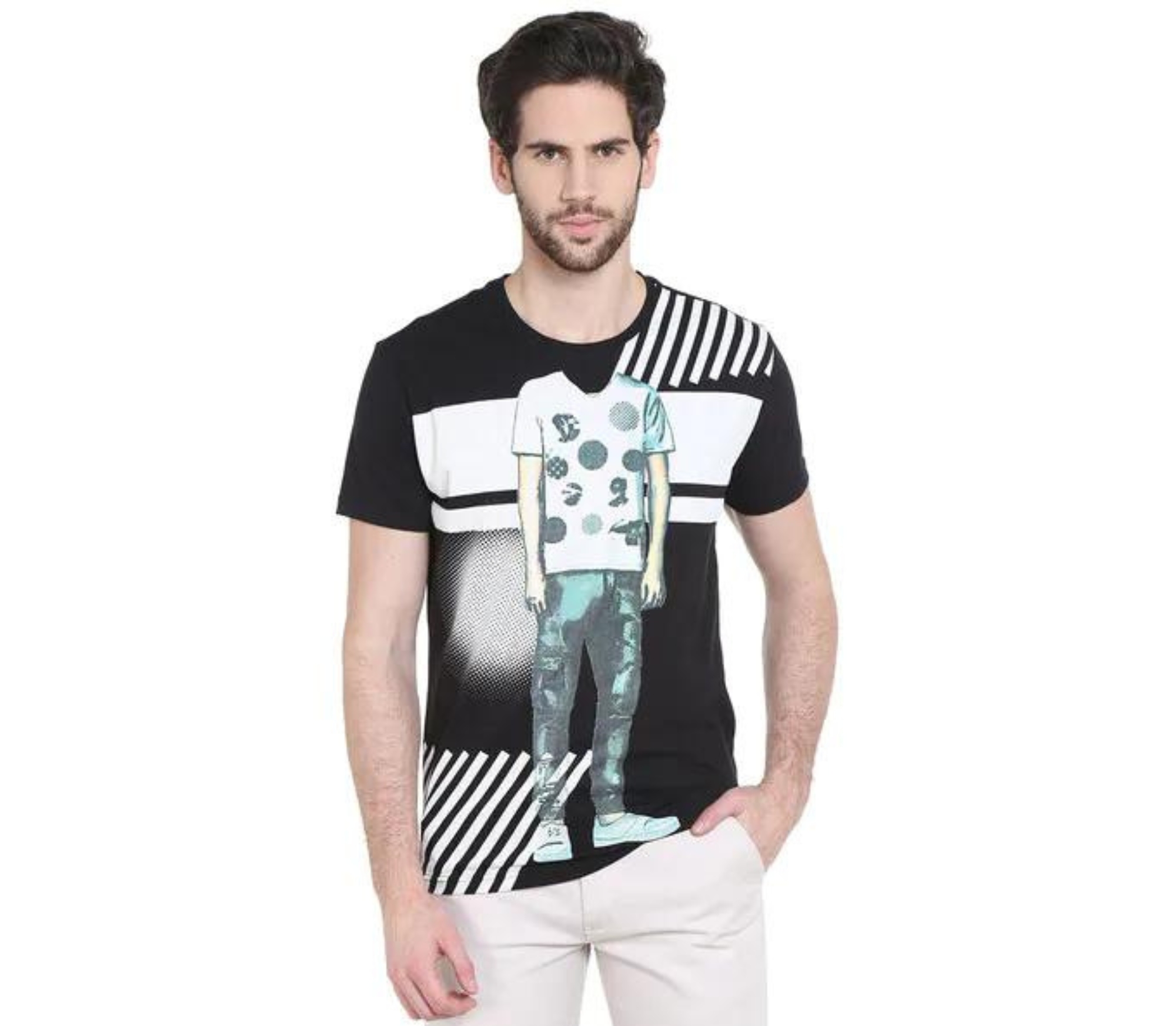 INC has some immensely trendy and comfortable t-shirts for all to enjoy. Buy INC international concept t-shirts for men and style them in various creative ways! Play around with your imagination and experiment with new styles to rock the look.
Let's have a look at 9 different ways that you can style this stunning graphic t-shirt fashionably!
Straight Cut Chino Pants
The best way to wear this graphic t-shirt is to pair it with a classy, black pair of straight-cut pants. It would give the outfit a semi-formal and classy kinda touch.
Straight-cut chino pants are always in trend so you don't have to worry about looking old-school, but instead, you should focus on how you can spruce up this already hip evening look! Throw on a wristband or a wristwatch, and you're good to go!
Slim Fit Pants
If you know fashion, you know that you can never go wrong with a pair of slim-fit pants when it comes to casual dressing.
These minimalist slim-fit jeans would pair flawlessly with the INC graphic t-shirt in question. Not only is it modern with vibrant shading, but it is also a super comfy pair that would keep you feeling active and confident throughout the day!
Cargo Shorts
Cargo shorts are your ticket to putting together an incredibly elegant yet casual outfit for the evening. Especially when paired with a graphic t-shirt, these look immensely stunning for a casual outfit.
So if you're looking to style the INC graphic tee in a classy way, this is the way to go!
Blazer
Go a little overboard this season and pair your casual graphic tees with slim-fit blazers for a change!
Adding a blazer to the look will add a formal touch to your outfit, and you can dazzle everyone with the class and elegance it will project.
This blazer is sure to make you look like an absolute hunk that cares about how he carries himself! A perfect way to style a casual shirt as a semi-formal look!
Button-Down Shirt
There's no debating that nothing looks cooler than a flannel or button-down shirt on top of a basic graphic t-shirt for a casual look.
This plaid pattern button-down shirt is a perfect match for this INC graphic tee. Wear the button-front shirt on top of the graphic tee, and leave it unbuttoned. Add a nice watch or a bracelet and you're all set for the evening!
Hoodie
A hoodie is an essential part of casual fashion. It gives you a cool, hippy look and it also keeps you cozy and warm on breezy evenings.
A pair of graphic tee and a zip-up hoodie is as good as nachos and cheese! In other words, they both go so flawlessly together as if they were made for each other! Check out this fleece-lined hoodie to go with your INC graphic t-shirt.
The red color will add some vibrancy to your outfit, which is always a good idea for a casual outfit, and it will keep you feeling warm and fuzzy throughout the day!
Bomber Jacket
For a more manly and bold look, you can always opt for a nice, hunky bomber jacket to pair with your graphic t-shirt. A staple for winter, bomber jackets always pairs well with t-shirts, whether they're basic, embellished, or graphic!
This camo print bomber jacket is a great way to spruce up your casual evening wear, especially when the graphic tee inside is white and black!
Style your graphic t-shirt fashionably with this snazzy jacket and strut around the streets with utmost confidence and sass!
Sneakers
Throwing on some fashionable and trendy yet comfortable shoes is an essential part of completing an outfit, and what's better than a pair of sassy sneakers to keep your casual look in check?
These pinole sneakers will match the INC graphic t-shirt perfectly and hence, you can style them effortlessly with the shirt and a matching jacket to go with it! They're comfy and stylish– all in one!
Baseball Cap
Add a pop of color to your look with this incredibly cool baseball cap! If you want to accessorize your everyday wear casual outfits the right way, a baseball cap is a way to go!
Rock your next casual look by styling this stunning INC graphic t-shirt with this Reebok baseball cap– just the right fit for a fun and cool person!