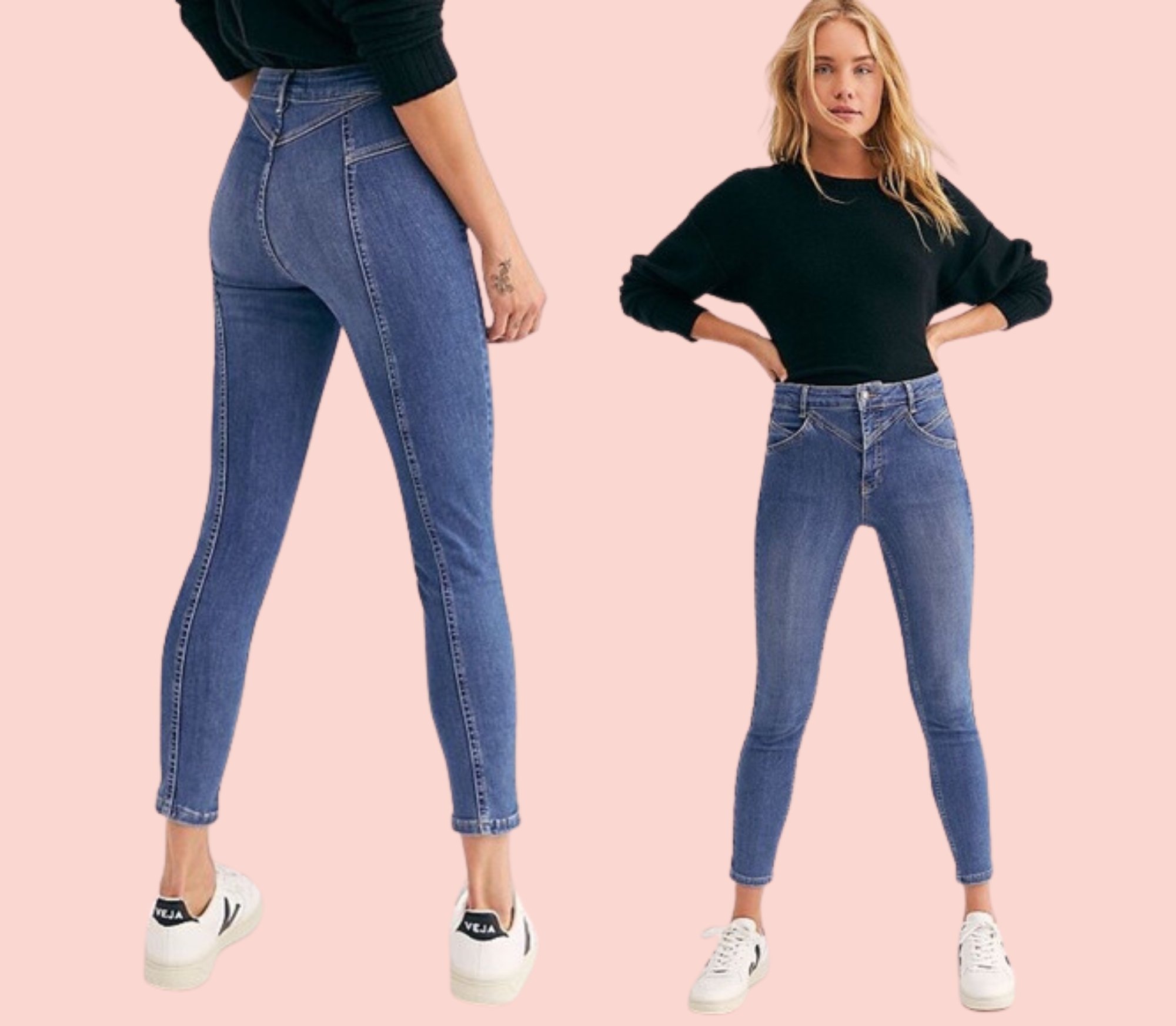 Buying a pair of skinny jeans seems like an easy task but really, a lot of thought should go into it. A number of factors determine which is the right pair for you, and these few tips will maneuver you in the right direction!
Check out the best winter pants for women online at Free People because they have got a plethora of designs and styles for you to rock! They have everything for each season, so get ready to rock these extravagant pants!
Basic Style
When shopping for a pair of skinny jeans, you should definitely look for something basic first. A classic rise, plain, and simple skinny-fit jeans would work great.
These classic skinny jeans make a great pair for casual outings, but most importantly, they look super classy and elegant rather than bold and sexy. So if you are someone who digs the sweet, simple girl vibe, then you should definitely go for this one!
High-Rise Style
You can never go wrong with a pair of high-rise style skinny jeans. They look incredibly stylish, and have exactly the right size and fit for you!
These pants are mostly suitable for modern looks, with your shirt tucked in and the outfit dazzled with some elegant minimalist jewelry.
The thing with high-rise pants is that they can be styled so fashionably, it is almost unbelievable! You can wear it with a flannel, a basic tee, some sunglasses, a blazer, and whatnot!
Distressed Style
A great fit for your street style, these distressed-style skinny fit jeans are the epitome of street fashion. The shading is done perfectly, and it pairs up great with oversized tees and tank tops!
If you're in search for a super casual fit, these skinny jeans are the right option for you!
Embroidered Skinny Jeans
If you're feeling a bit funky and feminine, going for embroidered skinny jeans might be a good choice! Remember, as kids we used to wear those jeans with flowers embroidered on them? This pair takes me back to those good ol' times!
It'd go flawlessly for your movie dates or shopping trips– just pair a pretty, matching blouse with it!
Raw-Edge, Ripped Style
A raw-edge style of skinny jeans is great for a boho-chic outfit for the evening. If your personal style mostly includes badass and trendy outfits, adding another pair of jeans wouldn't hurt that much.
Ripped jeans are very popular, and with a raw edge, they are even more cool and casual!
High-Waist Style
Another modern way of wearing skinny jeans is the high-waist style. The way it shapes your curves is absolutely amazing! Flaunt away that body that you worked so hard on with these modern and stylish high-waist skinny jeans!
They are perfect for a chic evening out with the gals!
Destroyed Skinny Style
A little bit ripped and a little bit faded, these skinny jeans will give you the ultimate washed-up vibes. For a laid-back and casual yet bold and classy look, make sure to buy yourself a sexy pair of destroyed-style skinny jeans!
These would pair up flawlessly with a halter neck blouse or a cropped pullover blouse, and some strappy high heels!
Busted Knee Style
These busted-knee pants got popular recently and have made their mark in the street fashion industry. Perfect for your everyday casual outings, these pants keep you feeling confident and bold throughout!
The busted knee makes it a gorgeous fit for a laid-back summer evening!
Vintage, Patched Style
If you want to go for a unique, yet creatively vintage, village-girl vibe, these patched skinny jeans are perfect for you!
Pair up with your favorite button-down shirt, preferably checkered or flannel, and throw on some cowboy boots, and you're all set!
Glittery Style Jeans
For a dazzling dinner with your loved ones, you can also opt for something shiny and glimmery. These absolutely stunning glittery pants will help you put together a jaw-dropping, eye-popping outfit for the night!
These are a must-have if you often have semi-formal engagements where womens glittery skinny jeans would be too casual but a formal dress would be too extra.
Formal Style
Available in two divine colors, these velvet skinny jeans are the epitome of high fashion! Incredibly luxe, soft, and glamorous, these skinny jeans will become your go-to pants for all your formal evenings and date nights!
Having such a pair in your closet is essential!
Bad Girl Style
For a more bold and badass outfit inspo, these faux leather skinny jeans are perfect. You can never go wrong with leather when it comes to a bold, gothic look.
They look super classy when paired with a sexy pullover blouse and a snazzy blazer to complete the look!