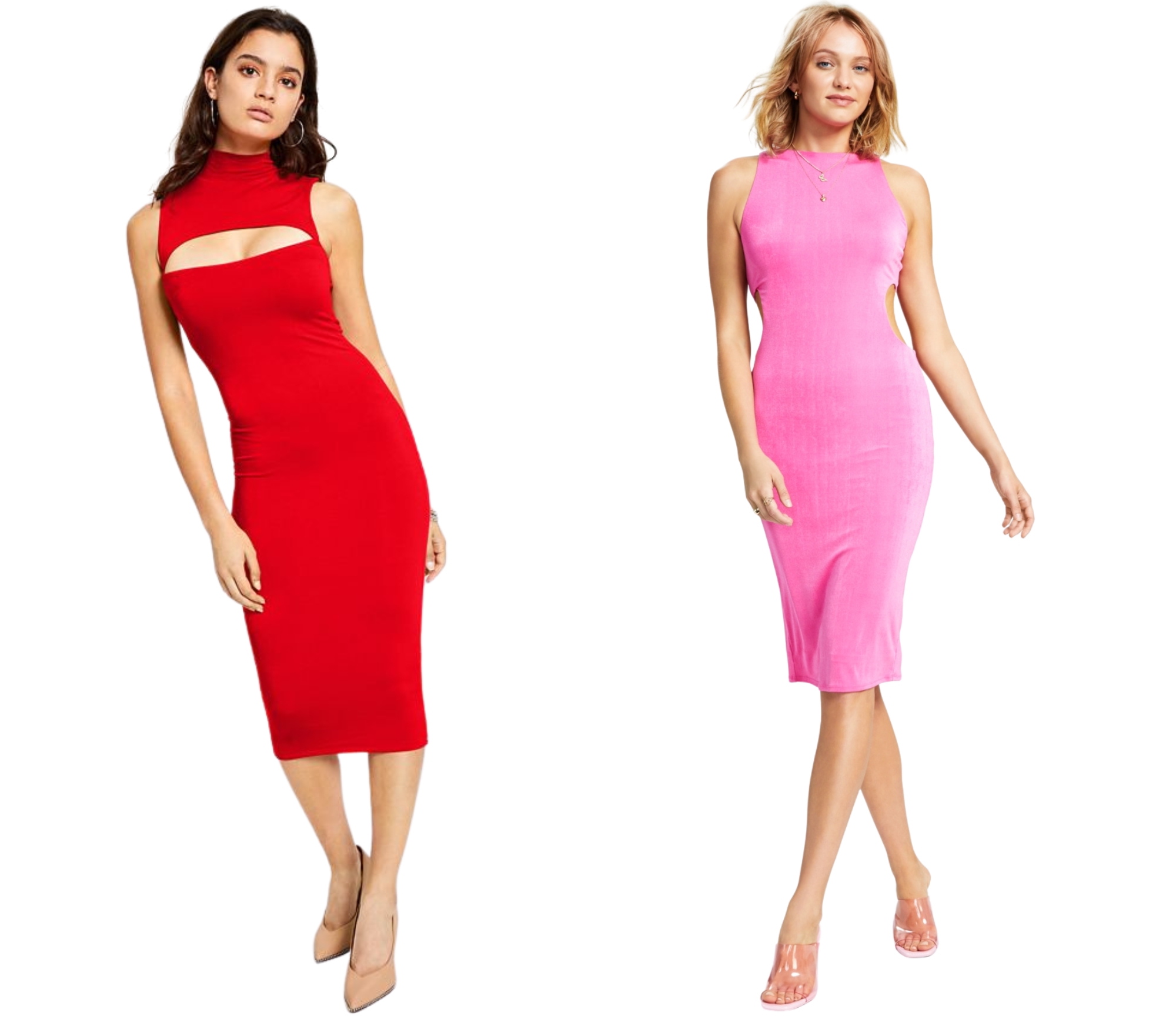 Whether you are finding a dress for your Valentine's day date or a black tie party your office is hosting, Bar III dresses are your best bet. Offering style and comfort, each piece brings out your best quality!
A bodycon dress works well on any occasion but it speaks pretty loud at events that require you to be bold and classy. Check out these Bar III crew neck dresses for women, and pick the best bodycon dress for your next event!
Basic Bodycon Dress
If you are looking for something simple and elegant, yet stylish, this basic bodycon dress is for you. It not only goes well at dinner parties, but you can style it in so many creative ways that it works great on any occasion!
As I said, Bar III crew neck dresses for women are a game changer for you all. I would recommend that you make this dress a staple in your closet because you will be needing it a lot.
Pair it with some classy earrings, sexy heels, or perhaps a blazer for a more formal, office-y look, and you're all set!
Metallic Shine Bodycon Dress
For a glitzy look, get yourself this shiny, metallic pattern bodycon dress and get ready to steal the show!
This modern and extremely classy bodycon dress is the most amazing outfit for a party– be it an office party or an engagement party of a distant relative, you are surely gonna shine there donning this piece!
Throw on some drop earrings, an intricate necklace, a pair of strappy heels, and a contrasting clutch, and you're good to go!
Mock Neck Bodycon Dress
Perfect for casual outings, this mock neck bodycon dress is the epitome of classic fashion. The classic stripes pattern and the mix of maroons and reds make it such a stunning and classy outfit.
Pair it with some black studs, throw on a scarf around your neck, and wear your favorite wedge heels to finish off the look!
Ruffled Bodycon Dress
If you want to add a bit of sass to your closet, this ruffled bodycon dress is the way to go. The solid pattern makes it a classy dress for all your dinner parties and dates, but you can snazz it up a bit with some blingy jewelry!
Wear subtle makeup and strappy heels with this dress and you're surely gonna break some hearts out there!
One Shoulder Bodycon Dress
One-shoulder dresses were very hip once but they lost their popularity to cold shoulders. Now, you can bring back the trend with this super stylish mid-length bodycon dress.
It is striped, which always remains classy, and you can accessorize it well enough to make it a trend again. How about you add some silver hoop earrings and a pair of your favorite black platform heels to complete the look?
Cutout Style Bodycon Dress
If you are feeling a bit too bold tonight, how about you treat yourself with this super sexy cutout varsity bodycon dress?
This sizzling outfit needs to be in your wardrobe if you're one for bold dresses. Not only will it make a great outfit for your date night, but also clubbing and dance outings with the gals!
Textured Bodycon Dress
For an elegant cocktail party look, you can always go with the classics. But how about you add a bit of a twist to the basic bodycon dress and make it even more flattering?
This textured bodycon dress is a classic take on simplicity and elegance. This divine piece will become your next favorite black tie dress, thanks to its intricate texturing and stylish cut.
Add some minimalist-style, intricate jewelry to the look and a nice little clutch, with some white or nude heels, and you're all set!
Printed Bodycon Dress
For a sunny beach evening, you can wear this printed bodycon dress as a coverup over your swimsuit. The print gives out a very beachy, summery vibe, and that's what makes it a perfect fit for your vacations.
Whether you're roaming the island of Bali or the streets of Paris, this beautiful dress is gonna dazzle you! Add some white heels, a sun hat, and a cute scarf and you have yourself a stunning summer outfit!