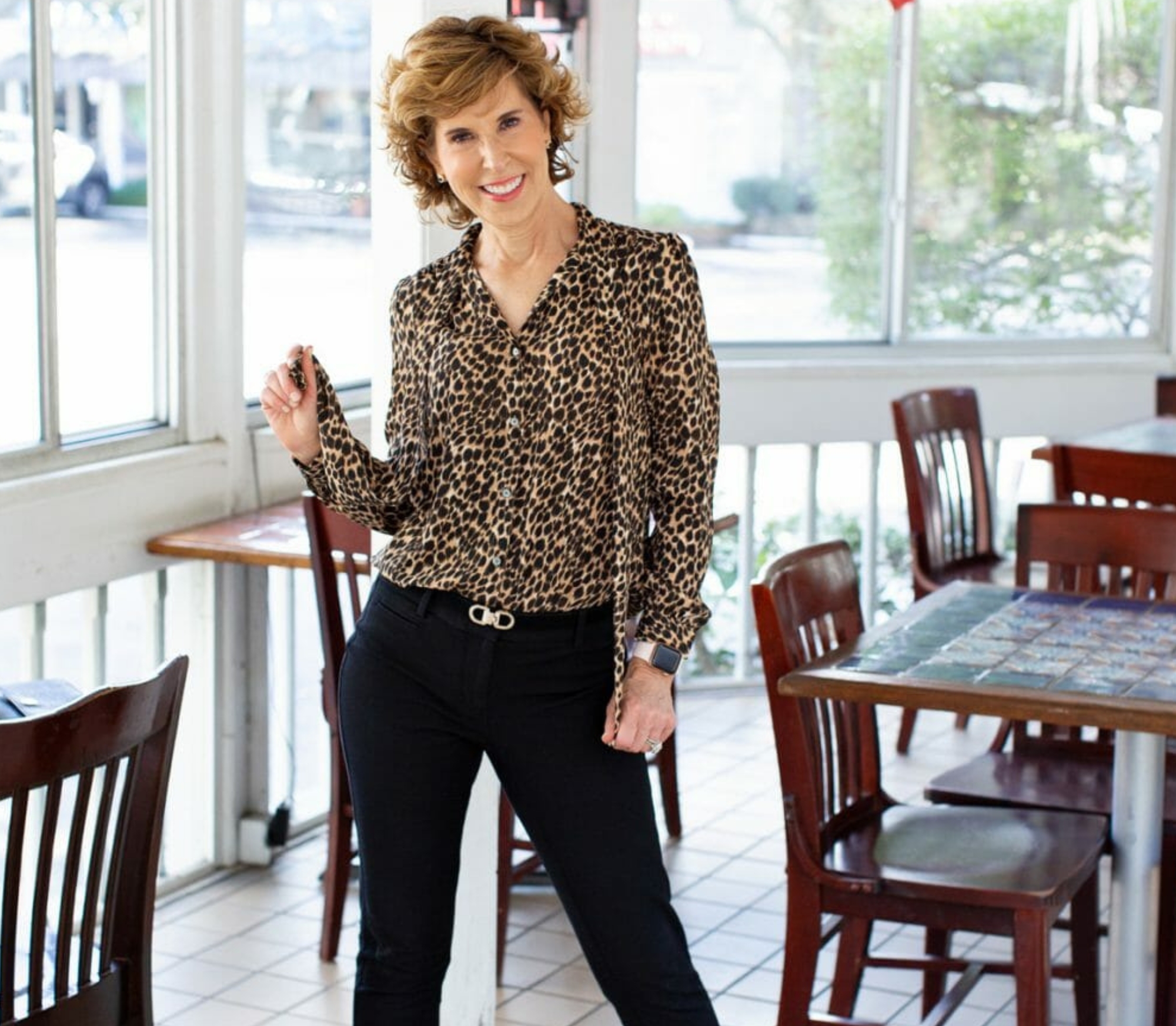 Tie-neck blouses are back ladies! If you were born in the last three decades, you may not have much idea about this clothing style, or why we're this excited about its renaissance. However, older ladies will remember the dress that became symbolic of women forging a career for themselves in the corporate world. It became even more popular thanks to bestselling books on how successful women dress.
Well, after enduring decades of being relegated to fashion obscurity, tie-neck blouses are back with a bang, and we're loving it! In this article, we'll show you five ways to dress up in your tie-neck blouse.
Old-Fashioned
There's no better way to set things in motion than, to begin with, the old-fashioned way. This was the style described in the book; "dress for success". This style is suitable for formal outings or the office. All you need is a pencil skirt, a nice pair of pants, or dressy denim. For accessories, choose a simple pair of earrings, and you can choose to wear some pumps, sandals, or loafers. We advise you not to combine your tie-neck blouse with jeans though unless it's a casual blouse.
Half Bow, Side Tie
This style is sure to help you make a statement anywhere. This one's for you if you like your style unique. It requires a bit of practice to pull this bow off, but its result will leave you feeling proud of yourself. To make this bow, start by crossing the ties in the front to form an "X". Then you take one of the ties around your neck, and onto the side where you wish to tie the bow, making it meet the other tie.
As expected, the two ties will have different lengths, but it doesn't matter. Just tie your bow, it will look unsymmetrical. Next, pull the shorter tie's loop through, so you end up with one loop and two tails. There you have your half bow! with such a sophisticated top, you should keep every other adornment simple. A pencil skirt or ankle pants will do. Pair with classic pumps and stud earrings and you're good to go.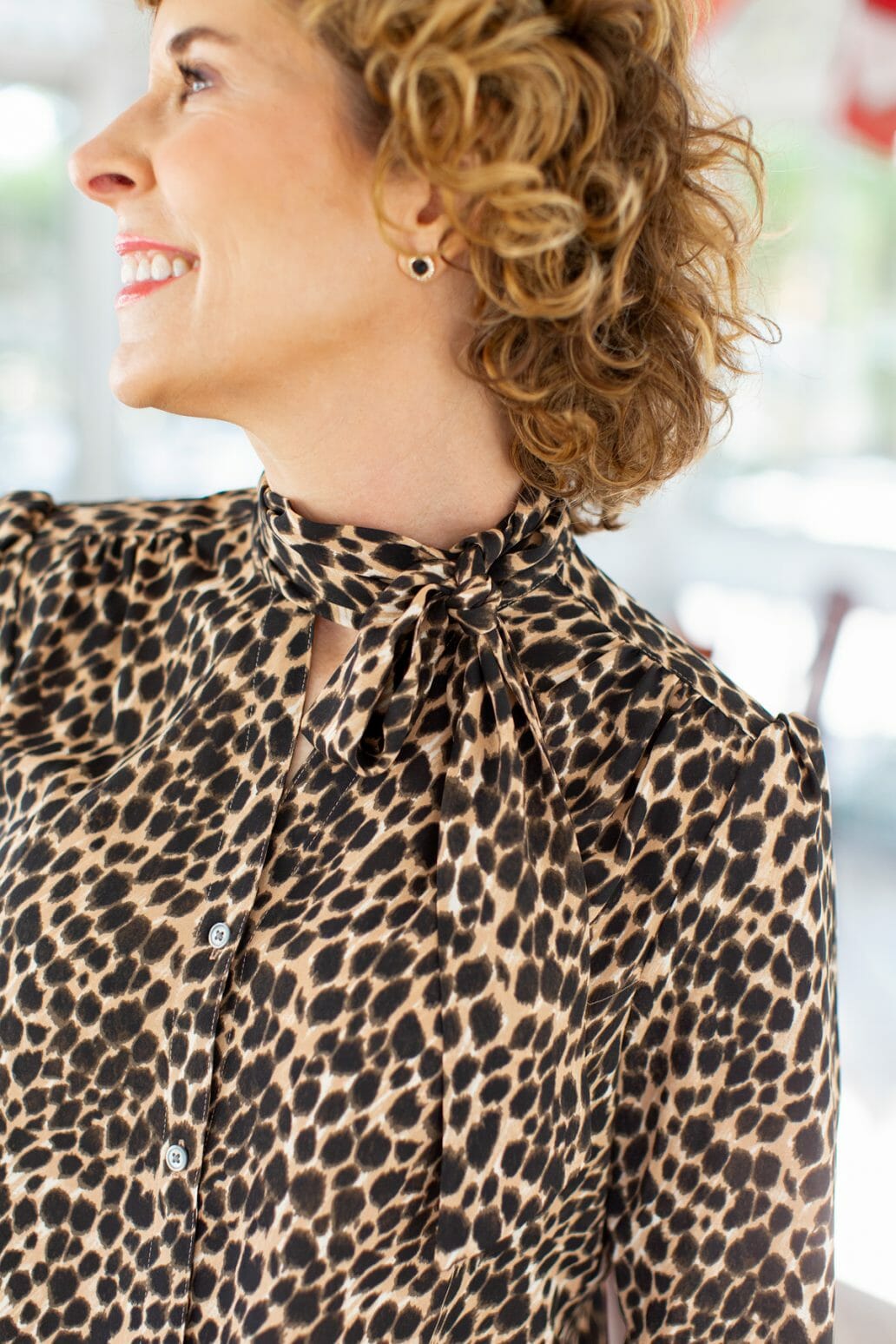 source
Low Bow
Now for some casual dressing. This time, you tie the bow such that it hangs much lower than your neck. The trick for this style is to imagine the bow as a tie as a necklace, with the bow as a pendant. Also, stick to simple earrings if your tie-neck blouse is a print. keep the attention on the blouse. However, it's better to combine solid-colored blouses with a pair of statement earrings. Pair the blouse with some jeans or dressy pants, and you're all set. Any casual footwear would do for this style too.
Easy, Breezy & Casual
Another casual way to dress in your tie-neck blouse is the simplest, you can get this look by leaveing your tie undone. This one is for you if you're feeling too lazy to do much, yet need to step outside. Just leave the ties hanging loose and at the mercy of the breeze. Pair with ankle jeans, crops, skinny jeans, or fitted slacks.
You can choose to tuck the front part of your blouse's hem in or leave it untucked entirely. Any casual footwear will do; sneakers, slip-on, or flat boots, whatever expresses your personality. Some casual earrings and a clutch purse completes the ensemble.
Back Tie
The final style on this list is my favorite because it's versatile enough for both formal and casual purposes. I'll be the first to admit that it's not so easy to pull off, and if you had it in mind to ask your male partner for help, take my word for it, and forget it. It'll be much less frustrating for both of you if you don't.
If you succeed in pulling it off though, you'll love the results. this style gives the dress the effect of a choker from the front view. Obviously, you can't pair this style with a jacket, cos the back is where the party is at. your choice of skirt or pants depends on if you have a casual outing or a formal outing.
Conclusion
And that's a wrap! (can't hold my smile in). we know you're gonna love dressing up in a tie-neck blouse because it's so versatile and makes you look so feminine. Keep the slay game on a high with a tie-neck blouse.