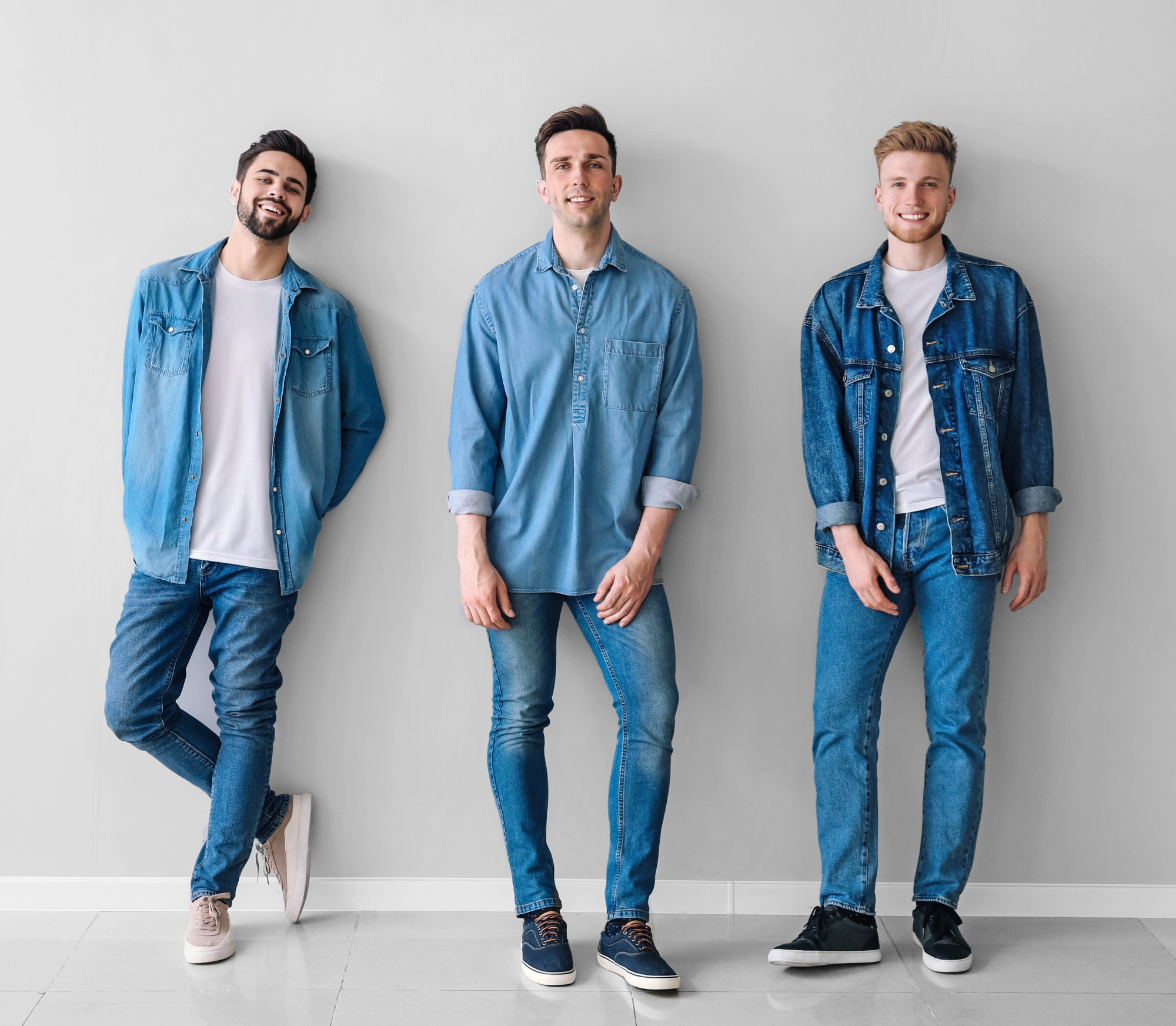 Denim is a fabric and pattern that has been here for ages and has never gone out of trend. It is a classic and you can't change my mind about that. What impresses me about denim is how it can be worn as pants– boyfriend jeans and mid-rise jeans are the most popular, shorts, shirts, jackets, and even caps!
I love how denim is so multi-functional and how you can create so many styles and designs from it! Explore some of the new denim styles and trends and show your fashion skills off at the next event you attend!
Denim Jacket
A denim jacket is a great way to tell that you are fashionable. This classic embroidered denim jacket will not only keep you warm in harsh weather but also make you look super handsome and stylish!
The button-front closure lets you keep it casual with open buttons and a cotton tee inside, but you can also fasten the buttons and have a more cozy look. The chest pockets make it highly functional since you can keep your cash, or phone in those. The pockets are with a flap so they keep your things safe inside.
There is embroidery at the back of the jacket which gives it a cool and unique look– perfect for a cold night out with your friends!
Pair it with a simple solid tee inside and throw on some slacks for a casual look, or a pair of dark jeans would go perfectly well for a semi-formal look– for a date, perhaps!
Denim Sneakers
Never thought sneakers would make it to the denim race, did you? Well, denim sneakers have become super cool and stylish nowadays and that's because they look incredibly badass and yet are comfortable to wear!
With a padded tongue, these denim sneakers are gonna be your next favorite shoes for all your outings! Be the cool one amongst your group and leave a mark wherever you go!
These fashion sneakers have a lace-up fastening so they may be a bit hassling to put on if you're not a knot master, but trust me, they are worth the hassle!
You can flaunt these bad boys with some light jeans and tees; add a cap for a boho look. If you're dressing up for a rather breezy evening, throw on a blazer over the tee and replace the jeans with some corduroy slacks. Add some socks and a beanie for a hippy look!
Denim Button-up Shirt
A denim button-up shirt is a classic and you can't disagree with me. If you do, then maybe it's time you check out some real awe-worthy denim shirts.
This classic solid denim button-front shirt is my favorite because it is incredibly fashionable and an appropriate depiction of class. The classic fit would enhance your whole outfit's look by hugging your body to fit its figure the right way!
The rounded hemline makes it a great casual fit, and the barrel cuffs can be folded up to give a bolder, more cool, badass touch! The collar is the old-school pointy style and adds a slightly vintage touch to it too!
You can match this stunning shirt with some brown pants– perhaps cotton or corduroy, depending on the season. Add a pair of sunglasses and a classy watch and you have got yourself a super cool and classy outfit for the evening!
Denim Shorts
Denim shorts are quite popular among young men and teenagers and rightly. Not only are they extraordinarily stylish and sophisticated, they are super comfortable and multi-functional.
You can wear them to a golf game, a tennis match, the beach, and even to parks and malls! The simple solid design makes them a great match with almost all types of shirts but my favorites are button-down shirts and casual pullover tops!
This super stylish, light denim pair of shorts offers you just that! With front and back pockets, you can pose with style and also keep your things in the pockets while dancing on the beach!
Denim Pants
The king of denim– pants!
Wherever you go, denim pants are something you are sure to find. With a plethora of designs, cuts, and colors available, it is almost impossible to choose one!
This dark jeans pant is something that would match almost all of your shirts so this is your best bet for staying on budget! Pair it up with a tee for some casual outing and a button-down shirt for a semi-formal evening!