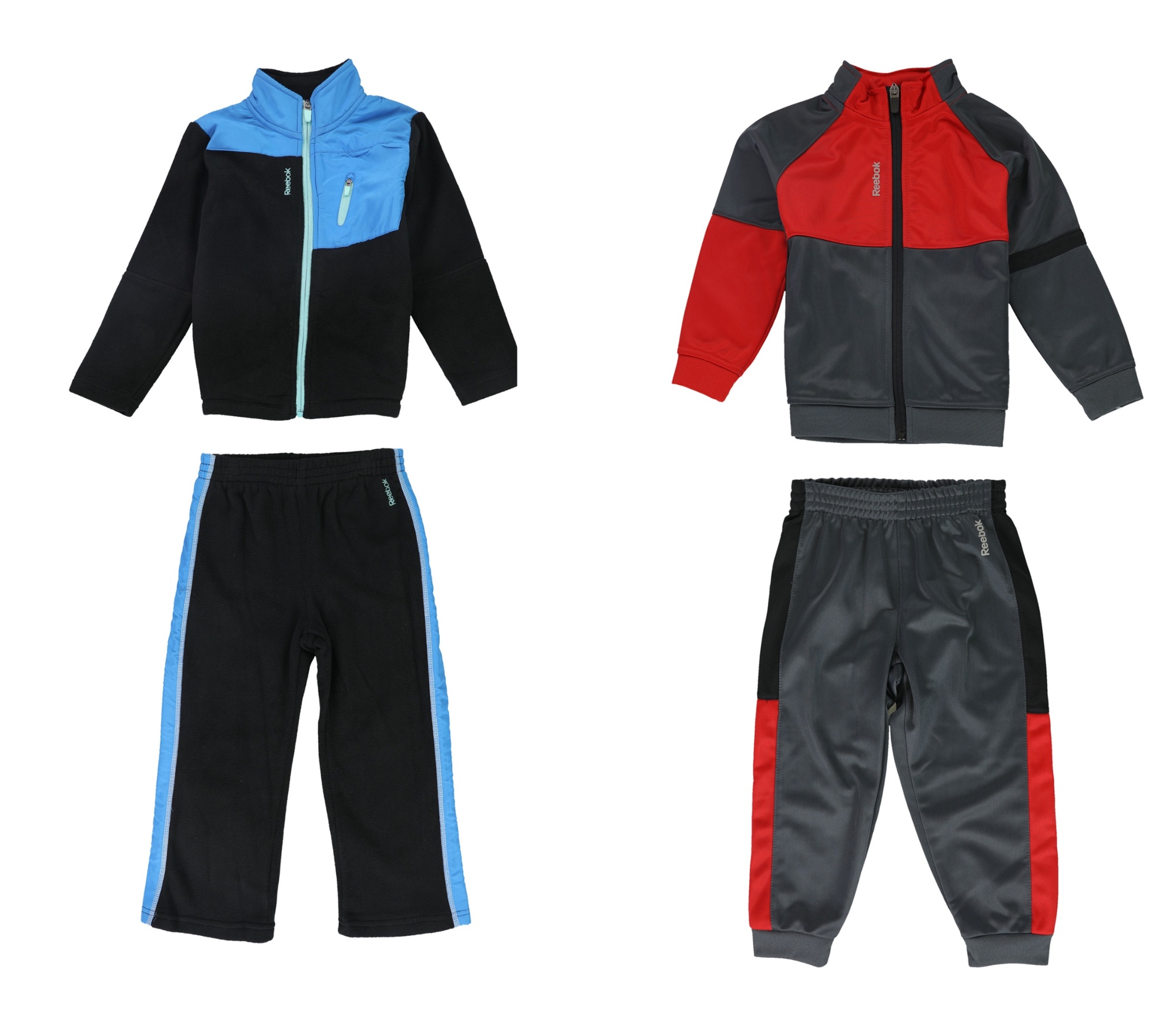 Kids' 2-piece sets are not easy to find, especially now that everything is based on mix and match. While this mix n match culture is fun and opens you up to more creative possibilities, you might find it hard to get good matches every time.
Nothing is more fun than playing dress up with your little kids but on the contrary, nothing is fun when your kids start to throw tantrums because they don't feel good in what they are wearing. Sweatsuits are great for kids as they provide extra comfort and style, all in one, and keep your kids happy!
There are a few pieces and brands that I have compiled together that sell the best kids' sweatsuits at the moment.
Reebok
Reebok is a renowned brand and unsurprisingly enough, it offers some great sweatsuits for all ages. The designs are a bit athletic but I guess that's what you would expect from Reebok, don't you think?
Infant Boys:
Finding sweatsuits for infants is a much more difficult task but thanks to Reebok, kids' tracksuits are a much more common wardrobe piece now. This stylish piece will make your little one look even more adorable than he is now, with the bright colors and simple design!
This stunning kids' tracksuit set comes with a full front-zip track jacket and very soft and warm trousers, perfect for keeping your baby comfortable and happy!
Toddler Boys:
Toddlers are the pickier set of kids who choose to cry and wail if they don't like what they are wearing. However, Reebok presents you with its classic sweatsuit collection for kids that will blow your mind!
These sweatsuits for kids are made up of breathable polyester and are perfect for winter as they keep your kids warm while keeping them comfy too. The design and colors are such that boys would like wearing them because, firstly, the designs are athletic and boyish, and secondly, the color palette includes shades of blues, greys, and black!
Boys Aged 4-7:
The sweatsuit available for this age group is by far the hottest-selling one! The color, the style, the comfort, everything is top-notch and your kid is likely to enjoy flaunting this 2-piece sweatsuit wherever they go!
The track jacket is full zip-closure and very trendy, so even if your kid's young, he can still strut around like a stud in this statement piece! The tricot fabric is highly stretchable which is great for this age group because they grow fast and this sweatsuit can last longer this way.
Infant Girls:
Every parent wants their tiny little baby girl to look cute, and most of them resort to the more mainstream ruffled frocks and pink, unicorn bodysuits. The world is evolving now and there are many clothing pieces that fit both, girls and boys and both of them look super cute wearing them!
One of those pieces is this adorable yet classy Reebok sweatsuit for infant girls. Dress up your baby in this suit to be a little unique!
The light blue and black color scheme looks very cute on little kids and the front zipper makes it easier for you to dress up and undress your baby conveniently. Moreover, another plus point is that the fleece fabric is smooth, keeps your child warm and cozy, and doesn't irritate the baby's sensitive skin!
Nike
Nike is another well-known brand for sporting goods and apparel so it shouldn't be a shock that it is on my list of the top 5 brands for kids' sweatsuits. The trendy cuts and patterns, the choice of the right fabrics, and the easy availability of its sweatsuits online and in stores are what rank it among the top 5.
Hanes
If you are trying to find colorful sweatsuit sets for your girls or classy sweatsuit sets for your boys, Hanes is the right place to shop.
It offers bold colors and simple designs, a perfect combination!
Adidas
Well known for its sportswear, Adidas offers various kids' tracksuits. The stylish designs and patterns distinguish it from all other brands.
It is an amazing choice for young kids since it is casual + chic and classy!
Disney
Disney is the children's fantasy world and that is exactly the kind of clothes it makes for kids. Browse through Disney's sweatsuit collection to find the perfect magical fits for your children that not only will they like, but enjoy wearing!