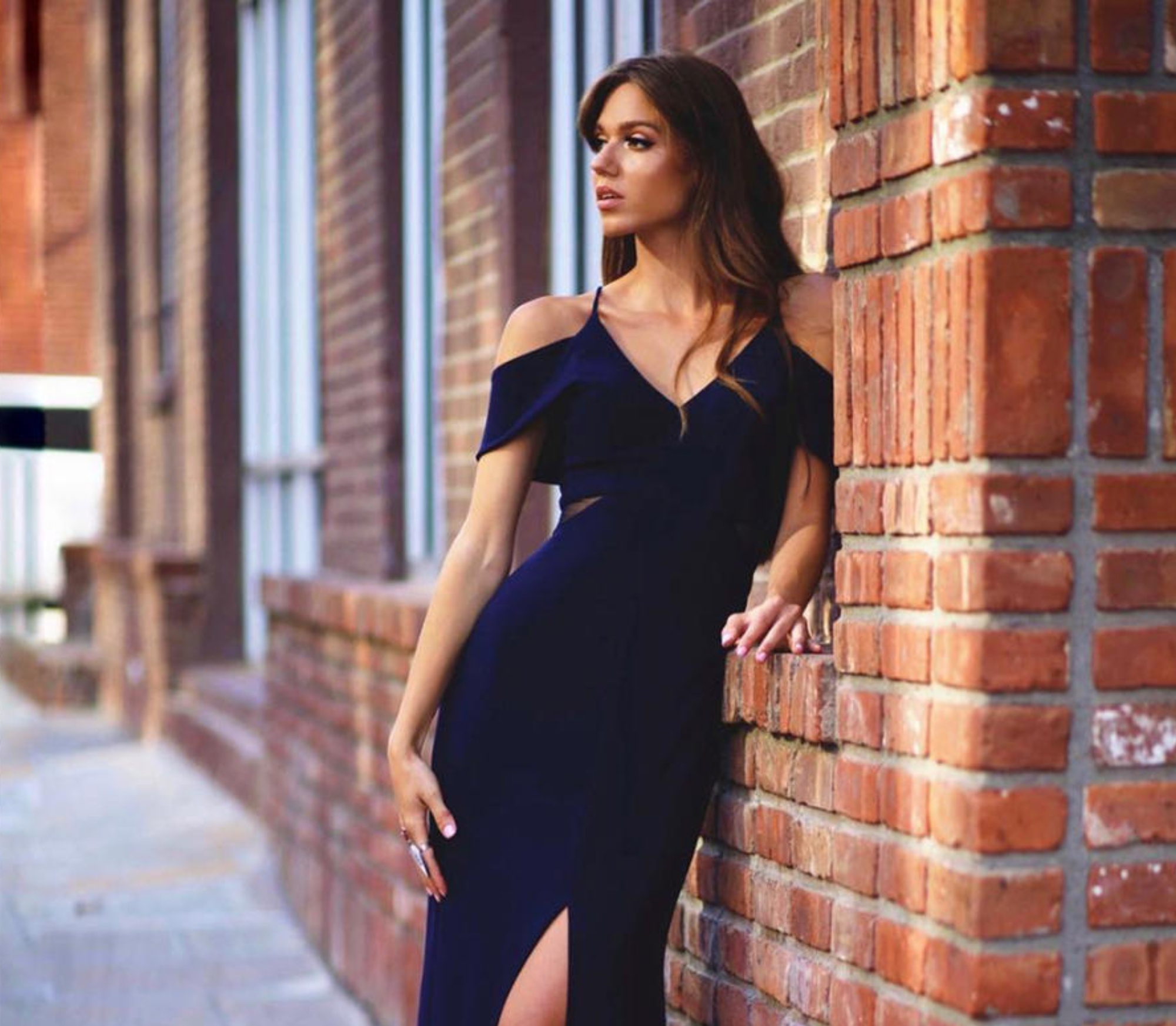 The ways an off shoulder dress can be styled are limitless, and that's what makes it a top choice for summer these days.
Top brands are stocking up on more and more off shoulder dresses because whether you're going for a vacation, or just for a stroll in the park, this dress will surely be your go-to outfit!
Style it with a sun hat, some wedge heels, and perhaps a satchel, and you have a beautiful vacay or beach party look ready! Let's look at some of the latest designs of off-shoulder dresses from top brands!
Ruffled Off-Shoulder Dress From Xscape
Women's off shoulder dresses from Xscape are must-haves– not only because they are exquisitely stunning, but also because they are luxe, and super comfortable to wear. It makes you feel confident in your own skin and bold enough to flaunt your personal style!
This ravishing blue piece from Xscape is a perfect gown for a special occasion– perhaps for an engagement party, a graduation party, or a bridal shower! The dress has ruffles which give the dress a royal and fun touch.
The slit on the side exposes your well-defined legs. If you wear an intricate anklet, it will even add a dazzling touch to your whole look.
Add some sexy heels, statement drop earrings, a delicate necklace, and some intricate bangles to turn this dress into an elegant and sleek outfit for a special night!
Women's Off Shoulder Dresses From Michael Kors
Michael Kors makes some snazzy pieces that do not speak to everyone as they do to elitists. This funky and super casual dress will be a great addition to your closet. If you are someone who likes to wear unique, out-of-the-box, loud kinda dress.
It has a halter-style neckline, but with a twist, a pretty lace hem, and cuffs at the sleeves. I would say it is a pretty classy piece, and if you're into exploring new kinds of fashion, this is the way you should go.
You can add some cute earrings, some rings, and a beaded bracelet perhaps. Give this dress an even cooler look. Pair it up with some wedge heels, and perhaps a scarf to go with it. You can add as many accessories as you want and try out creative ways to pull this dress off flawlessly!
Vacation Dress From I-N-C
Whenever you search for a pretty dress for your romantic getaway, this off-shoulder dress from INC will surely be your favorite pick.
With a breezy and flowy style, this long off-shoulder dress is a perfect outfit for a summer evening in Paris or Rome. Wander around the quaint villages and narrow walkways in this beautiful floral-print dress, and get compliments on the way!
If you want a more summery look, you can add a sun hat to your look. You can even wear it that way to the beach or a park. Or if you want to stay basic, add some pretty floral flats with some cute, minimalist jewelry, and you're all set!
Sequined Dress From Teeze Me
If you are looking for something to wear on a hot date night, look no further because this stunningly gorgeous piece from Teeze Me is the perfect fit for your date night!
Sequined throughout in deep maroon color, this off-shoulder dress is the face of the phrase "bold and beautiful", and if that's the vibe you're going for, then there is nothing better than this piece!
Also, you can throw on some sassy drop earrings, a bold ring, and some sexy high heels, and you're all set to make him go head over heels for you!
Women's Off Shoulder Dresses From Calvin Klein
The current leading brand for selling stylish off-shoulder dresses has to be Calvin Klein. With many unique and equally gorgeous dresses, Calvin Klein is winning this race.
This midi off-shoulder dress speaks a lot about Calvin Klein's class. If you are looking for a party dress– perhaps for a black tie event, then this ravishing outfit is made for you!
This dress hugs your body perfectly and gives you an elegant and classy look. Once you put it on, you will feel a renewed confidence in yourself, and since confidence is the best accessory. You will be making some jaws drop in no time!
Moreover, pair it up with diamond jewelry, snazzy block heels, and perhaps a shawl, and you're good to go!