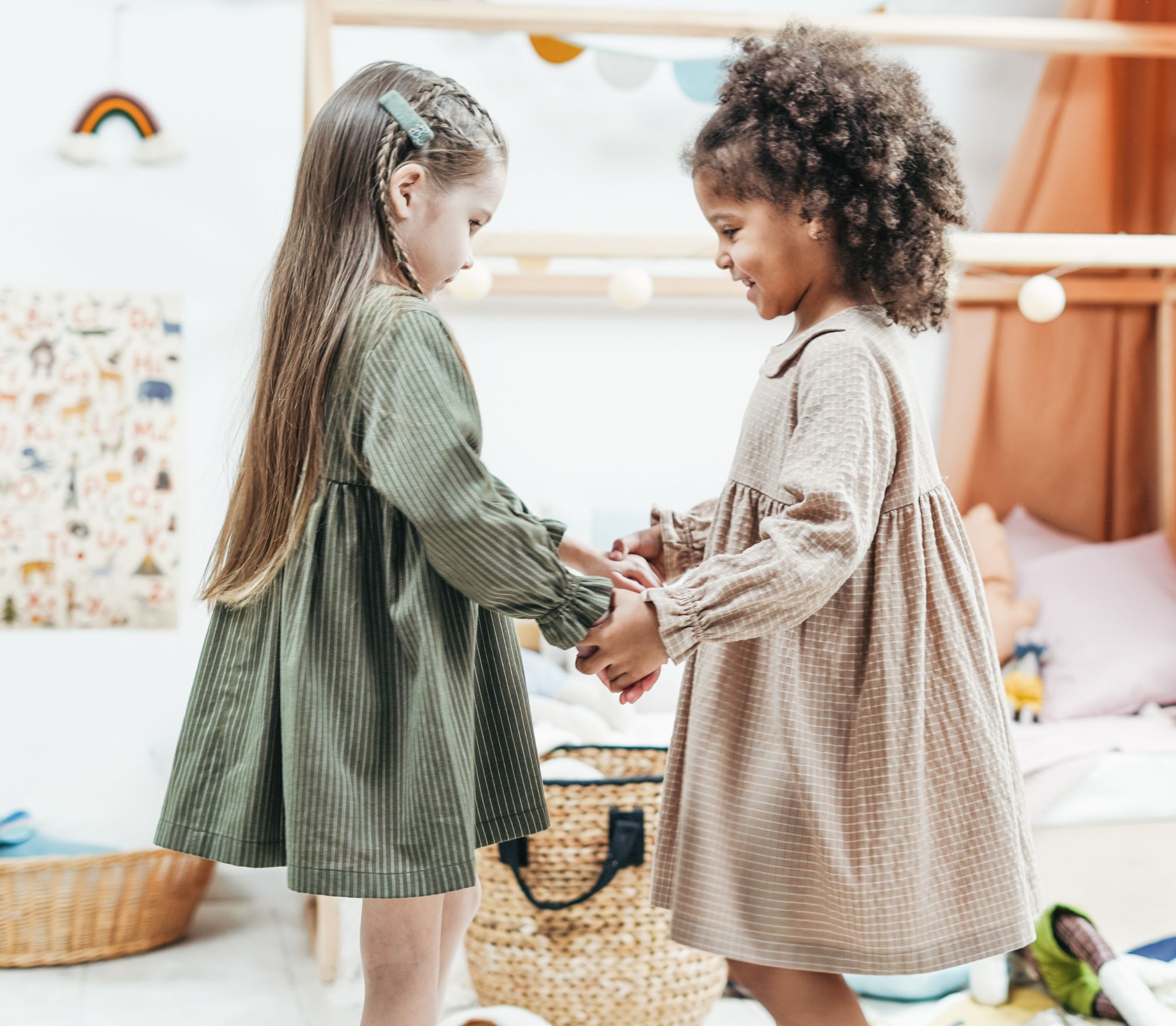 Spring is a beautiful season, almost possessing a magical aura. However, for all its beauty, it comes with a certain headache as a parent or guardian. Now you have to shop for new dresses for your little girl, as she's probably outgrowing her current clothes. One way to make things easier for you is to shop for their dresses as you Buy Women's Dresses online. So here's a list of 12 Spring Dresses For Little Girls To Look And Feel Their Best.
Rare Editions Girls IKAT Lace Tank Dress
This dress is an absolute beauty, with many selling points for me. But I'll begin with my favorite; the shark bite hemline. It just makes this dress so beautiful and you can picture how your little girl will look in it.
There's also the lace inset at the neckline and the hem, which just compliments the print on the dress. The fabric is a combo of rayon and polyester. Its sleeveless design also makes it perfect for those hot summer days.
Sweet Heart Rose Girls Stripe Knit Tank Dress
This dress is just an absolute stunner. Two things immediately pop out about this dress; its beautiful handkerchief hemline, and the neckline, which has a scoop neck design, with ruffle trim. This dress is a beautiful metallic striped pattern of blue and white.
Since it's a tank dress, it's sleeveless, which is something you'll need some days this summer. It's about 53% cotton, which makes it breathable as well, with the other materials being polyester and a little bit of spandex. This knee-length dress will be perfect for your little girl going out on a picnic.
Speechless Girls Velvet A-Line Dress
Away from tank dresses, and on to the first of two A-line dresses on this list. This dress by Speechless comes with a square neck design and peek-a-boo shoulders. Sometimes, you just want as much of your body exposed to the summer breeze as possible, and this dress offers just that.
The bodice is a beautiful red velvet, while the skirt has a black lace overlay. To add to its allure, the waist is beaded round. The fabric is 95% polyester and 5% spandex. This dress is perfect for a visit to the park.
Rare Editions Girls Floral A-line Dress
Another entry from the Rare Editions Girls' catalog. This beautiful A-line Dress will make your little girl pop whenever she steps out in it. It's aqua blue color gives it a cool vibe, which is complemented by the floral patterns all over.
In my opinion, a summer wardrobe is incomplete without a floral dress or two. And this dress could be just what your girl needs for her summer. Other selling points on this dress include its ruffle trim around the chest that extends to form its cold shoulder design. There's also the scoop collar design. This is a perfect choice for a casual summer outing, like a trip to the beach.
Monteau Girls Floral Maxi Dress
You're just gonna love how your girl looks in this maxi dress. The beauty in dress lies in it's simple design. No frivolous ruffles or laces for this dress. Just a simple floral dress that you can dress your little girl in and your good to go.
Another plus for this dress is that it allows you add other accessories like a headband or bow, and you immediately achieve a more sophisticated look if you so desire. It's a little on the expensive side, but it's always worth it if your girl ends up grabbing all the attention. So add this dress to your cart as you buy women's dresses online.
Bonnie Jean Girls Pineapple Tank Dress
Remember when I said earlier that I was done with tank dresses? Yeah, I lied (wicked laughter). It would be criminal if I don't add this beauty to my list. And as you can see, it's called a pineapple tank dress because… Yes genius, you figured… It has a print of pineapples all over. It's a sleeveless dress with a round neckline. It's a simple dress that with the lace details on the sleeveless arm openings as the only trim on the dress. Overall, Bonnie Jean let's the dress' simplicity do all the talking.
Rare Editions Girls Floral Wrap Dress
For this next dress, there's nothing I can say to describe how beautiful it is. You just have to see for yourself to appreciate it's beauty. If there was a size for for adults, I'm sure many ladies would be spending their money to buy the women's dress online.
And what's not to love about this dress? Is it the colorful floral print, or the stylish V-neck? There's also the peek-a-boo shoulders which adds a nice touch to it's design. The sleeves are short, as you would expect from a summer dress, and the fabric is 100% polyester. It doesn't come cheap, but it'll definitely be worth the money when your little girl steps out and has everyone fawning over her. This is definitely my best pick of the Rare Editions collection on this list
Sweet Heart Rose Girls Flutter-Sleeve Tie Dye Tank Dress
Spring is a season full of bright colors, and no dress speaks that language better than Sweet Heart Rose's flutter-sleeve tie dye tank dress. There's nothing subtle about this dress, everyone will notice your little girl as she walks past in this stunner.
It has a beautiful red bodice, with a scoop collar. It also features an elastic, smocked waist with little ruffles. There's also the flutter sleeves, another selling point on this dress. But the skirt is what'll draw the most attention. It's a tie dye pattern featuring red lemon and green colors. A straightforward hemline wouldn't do for a dress this bold, and Sweet Heart Rose doesn't disappoint, as this dress has a stylish handkerchief hem. The fabric is 100% polyester.
Team Apparel Girls Sequin Heart W/Ram A-Line Dress
This dress is for them sports lovers. Here's one way to let people know how much you love football, without actually saying so. This stylish sports themed A-line dress taps into the allure of football, without reducing it's femininity. Yeah the dress is themed after the Los Angeles Rams, but unless you're a hardcore fan of a specific NFL team —or your partner is— this dress is a trendy choice for your little girl this summer.
The dress features a 3-tone pattern, but is predominantly pink, and the fabric is a mix of cotton and polyester. It won't cost you much to dress up your little angel in this dress.
Ralph Lauren Girls Flutter Sleeve A-Line Dress
Here's another dress for you if you don't fancy have so much frills on a dress. Its simple design doesn't take away from it's elegance though. It's exactly what makes this dress beautiful. Its simplicity also allows you combine with other accessories to draw attention to them.
This A-line dress is very breathable, thanks to its fabric that's 100% cotton. It also features flutter sleeves, which is one of the few fancy designs on it. It has a scoop collar, and has a scalloped tip finish at the hem and cuffs. More on the hem and cuffs, you'll love the tiered design on these parts too. I said this dress wasn't too fancy, right? Maybe I was wrong… Lol.
Aeropostale Girls Crepe Shift Dress
Alright, this dress really is simple in its design, and you can check it out to confirm yourself. This is another one to add to your cart as you buy women's dresses online. Its simple design doesn't make it any less beautiful, as you've seen for yourself. This shift dress is just what you need to dress your little girl for a trip to the park.
The bodice has a scoop neckline, with cap sleeves, and otherwise there's no frills. Like I said earlier plain, or solid design dresses allow you to accentuate other parts of your body using accessories. This dress is no different. The skirt is flared, giving it a kind of barbie look. Aeropostale really hit the right notes on this dress, and your girl is gonna love this one.
Iefiel Girls Sparkly High-Low Dress
So far, the dresses on this list have been suited for casual occasions, although there are a couple you can choose for five o'clock outings, or even be forgiven for choosing for a formal event. Iefiel Girls Sparkly High-Low Dress however is a bonafide formal attire, and it wouldn't disappoint if you dress up your little angel in it.
Of course, the most obvious appeal is the High-Low design of the hem. On a closer look, it's actually a sheath dress, with a fabric wrapped around the waist to give the high-low designs. The dress fabric literally glitters and it's complemented by the plain fabric of the wrap skirt. It also features a scoop collar, and it's sleeveless. This is a keeper for sure.
CONCLUSION
Some fashion brands now take little girls' growth as a major factor when making new dresses, and several brands now make dresses with elastic waists, and adjustable button holes among other innovations. So whether you need a dress of a trip to the park, beach, or any special occasion, we're sure you will find a dress or two to choose from our list.