Many people like polka dots. Fitting this remarkable trend into your wardrobe is tricky for first-timers who want to experiment with this style. However, whether your desire is feminine or an edgier outcome, there's no doubt about a polka dot outfit. Scroll down to get trendy ideas on how to get a stunning appearance from polka dots.
1. Polka Dot Shirt
The polka dot shirt is the elegant top you need for a bright, casual, and classy look. But how do you decide what to wear with a polka dot shirt? You can match this shirt with skinny jeans, khaki shorts, and a black blazer. Further, the combo of a polka dot shirt is time tested and will surely deliver an impressive look to your outfit. But if you still aren't sure what to wear with a polka dot shirt, you can try it out with wide leg pants to elevate your look!
2. Black Polka Dot Midi Skirt
A polka dot midi skirt outfit will also give you a classy look. Wear your polka dot midi skirt with a short-sleeved sweater depending on your favorite color. A black and white polka dot skirt outfit is decent when going to your workplace. You can match the black and white polka dot skirt outfit with heels or flats and a black short-sleeved sweater for a professional look. Wear a black polka dot midi skirt if you need a casual and relaxed outfit. Then, combine your black polka dot midi skirt with a white sweatshirt.
3. Polka Dot Skirt and Top Set
A polka dot skirt and top set are fun and exciting for a wedding. You'll get that unique and elegant look with this outfit. A black polka dot skirt outfit paired with a crisp white top is ideal for that professional appearance. Better still, the black polka dot skirt outfit goes well with a pair of black pumps. But if you need a casual look, wear the polka dot mini-skirt outfit with a pair of sneakers for a less sophisticated appearance. Consider a crisp blouse if you choose a skater polka dot mini- skirt outfit.
4. Long-sleeved and High-Necked White Polka Dress
The above is still another way to wear the polka dot dress. The white dress will be appealing when combined with a pair of black ankle booties and a side body bag.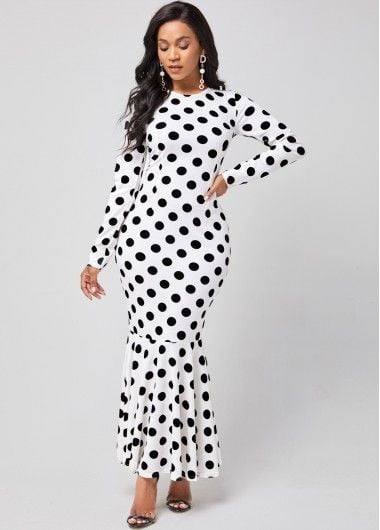 5. Coral Polka Dot Gown
The coral polka dot gown is a stylish outfit. To get the best with this gown, wear ankle-length boots, nude makeup, and brown lipstick, and design your hair in a ponytail.
6. Black and White Off-Shoulder Gown
Are you still unconvinced that you can't get a classy look from polka dots? Try this one and see how it brings out the best of your figure.
7. Blue and White Polka Slit Dress
Do you need an ultra-chic appearance for your event? Then a blue and white polka slit dress is what you've been missing. If you still doubt this look, consider adding angular shades, silver pumps, a slick bun, and a belt. Further, knee-high or ankle boots match well with this dress.
8. Polka Dot Jacket
Consider adding a polka dot jacket when you wear full black attire or a monochrome. Then, go for a pair of red pumps, and you'll love the outcome.
9. Red Polka Dot Pencil Skirt
The red polka dot pencil skirt is what you need for your party. When you pair these black pumps and a white blouse, you'll have a look of a kind. Then, please make sure to put on red lipstick; the result will be glorious.
10. Brown Polka Dress
If you need a change from the black and white polka dress, then the brown polka dress is your perfect choice. The brown polka print is also intelligent in pencil skirts, sweaters, and gowns. These are impressive in subtle, minimalistic, yet classy brown polka dots.
11. Pink Polka Dot Ruffle Dress
Another idea to wear the polka dots is to get a pink polka dot ruffle dress. The outfit is best for several occasions, like a party, the beach, or when shopping in your local market.
The polka dot fashion isn't going anywhere soon, thanks to its timeless and unique appearance. With the print, you can get any look, whether professional, cocktail or casual. Therefore, if you need something modern and sophisticated, polka dots are the real deal.