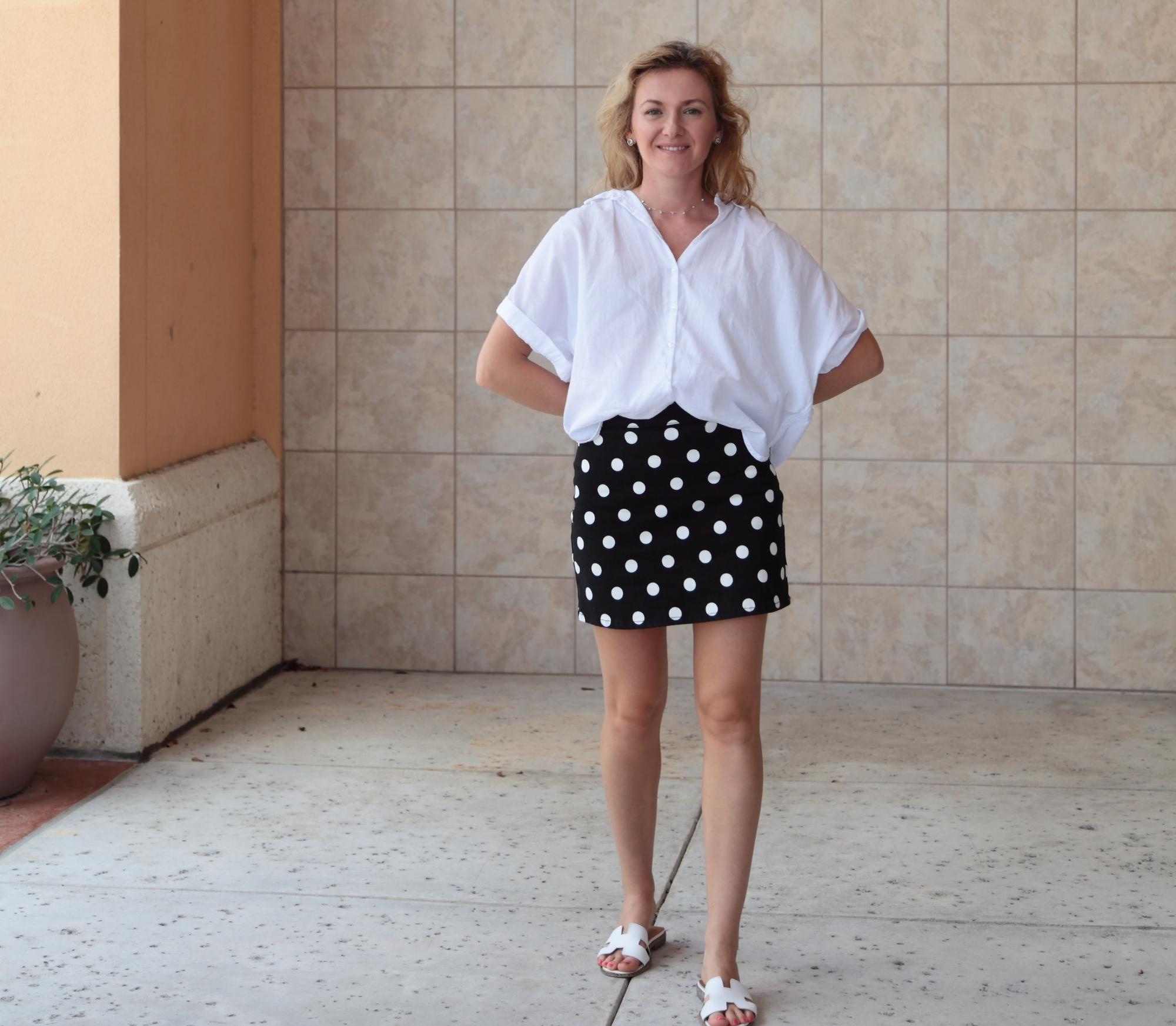 Polka dot outfits are loved by everyone. Not only are they loved, but also always pass the vibe check. Men, women, old folks. You certainly cannot even resist holding a baby or toddler dressed in one. We know; too cute. The polka dot pattern is a fashion staple from the 1970s but is still very much trendy today. Here are 3 ways to wear a polka-dot pencil skirt.
Polka dot patterns
Polka dot patterns, also known plainly as 'dot' patterns are basically patterns with several circles or dots. Sometimes, designers like to play around with it. It could come out in regular or irregular patterns. It could also be arranged to speak abstractly, figuratively, or decoratively.
Despite technological improvement in the fashion world, polka dots are still traditionally made on fabrics (by hand), and still, come out as beautiful as ones made with print.
3 ways to wear a polka dot pencil skirt
Casual/T-shirt style
If you belong to the category of people who think pencil skirts are only for formal occasions; baby girl, you have no idea what you're missing! Pencil skirts give a different vibe when you wear them casually. Here's how the combination goes; A plain or graphic t-shirt, a polka dot pencil skirt, a tiny or mini-over sized satchel, and sandals.
Because the skirt is already patterned you can do a plain t-shirt, but there's no harm in a graphic one either. (We subscribe more to the latter to make better fashion statements. Check out Harry Styles' latest tour outfits!
Formal/Blouse Style.
Nothing too flamboyant here. You want to pass across the message that when it's time for work, you always mean business. Your polka dot pencil skirt only needs a top whose color complements its color. Add a metallic bracelet for some bling, but remember, the idea is to not appear flashy. Every other accessory should also be kept basic, so you appear simple but chic.
If you wish to add a bit more class, then add a cardigan, or a blazer, and instantly feel the 'power-up' effect of your look. The final touch should be your oversized bag and a pair of heels. Who says you can't slay while working?
5 O'clock/Semi-formal style
If you prefer that your 5 O'clock attires lean more towards looking casual, then you'll love this style! Just pair your polka dot pencil skirt midi with a brightly colored top (especially if your skirt's hue is more subdued). If your pencil skirt's color base is a neutral hue, then your top can basically be of any color. Neutral colors are very versatile.
If for any reason, you need to change your look, all you need is a blazer or a cardigan, and you have yourself ready for work! But for our casual, evening look, we may add a few accessories; a clutch, and a necklace. Round things up with a nice pair of metallic sandals, and you're set for that evening date.
Conclusion
Polka dot fashion is a blend of 'retro-modernity', but unlike other staples, very much likes to remain more of the latter. From formal and casual gowns, to flared and pencil skirts for women or ruffled tops, you can make the polka dot staple dance to your tune. The secret is to keep it retro, but do it in a 21st-century manner. In the end, there is absolutely no pattern that cannot be styled or pulled. You are just yet to find the right ways!