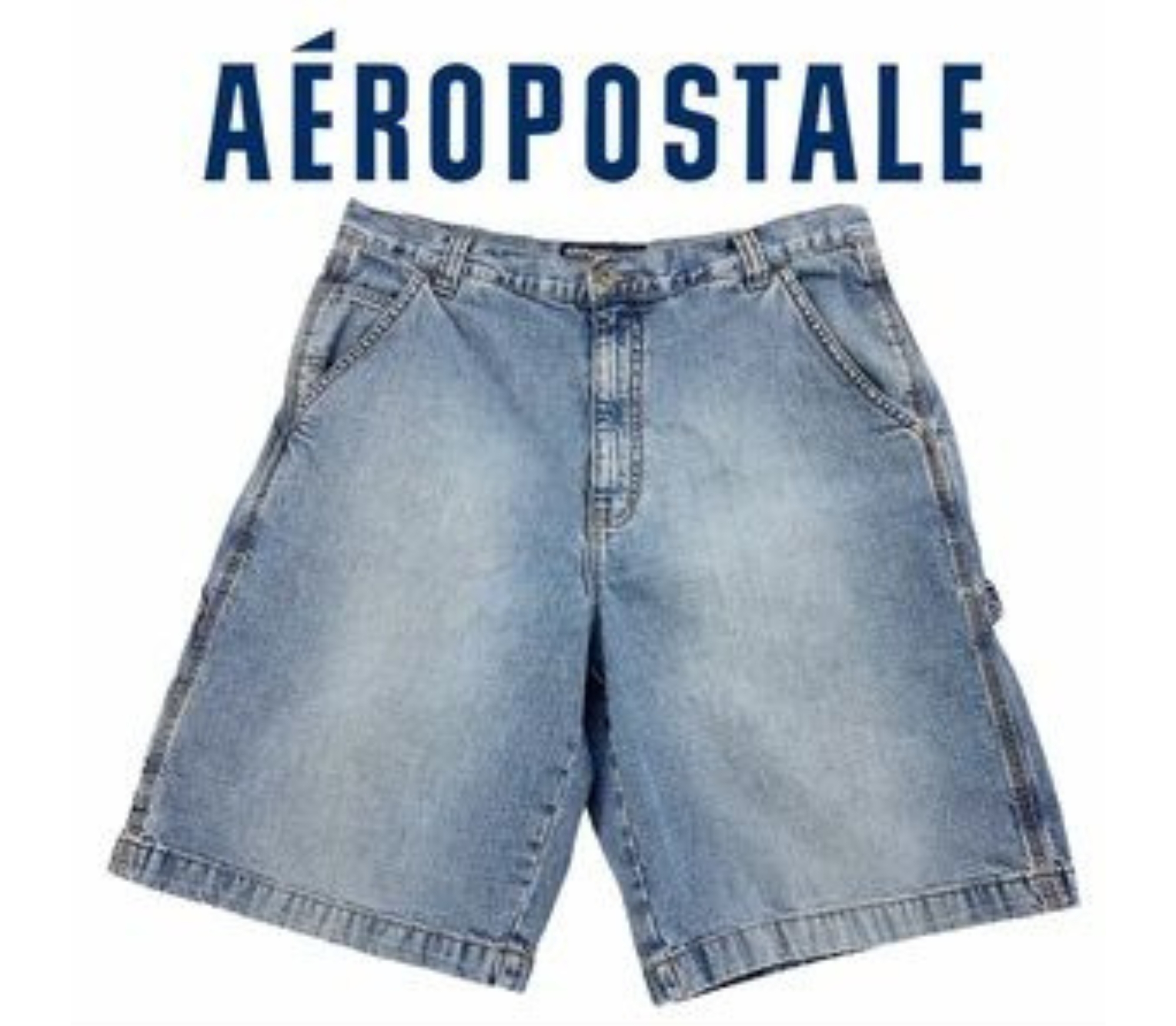 Similarly, finding a good pair of stylish denim shorts that are both stylish and comfortable can be a bit difficult and daunting. That's when you turn to Aeropostale!
Buy the best denim shorts for the new year this season, and look fabulous in your best Aeropostale winter clothes. They are stylish and cosy, and will become your favourite!
Workout And Denim Shorts For Women
There is a variety of collections in the shorts category– offering ultimate style and comfort, Aeropostale stocks some of the snazziest workout and denim shorts for women.
Let's check out some of them now!
Striped Workout Shorts
Just like solids, stripes are a classic and very elegant pattern– whether it's a pullover blouse or a pair of workout shorts, you can never go wrong with stripes.
This super comfortable pair of striped workout shorts have that classy color combo, and stripes at the sides which makes it a super trendy piece. The stripes at the side give the shorts a sleek look, hence, giving your legs a defined shape.
The fabric is extremely soft and breathable, stretchy enough to fit your body perfectly, and the variety of colors just makes it even cooler.
Color Block Workout Shorts
Another trendy style of workout shorts is color block. Imagine creating a unique pattern just by popping in some colors to add a snazzy touch, isn't it brilliant?
Color block always fascinates me, and that's why this pair of workout shorts is my favorite.
 With a small logo on the front and a color block design workout short, these shorts offer you a super stretchy material and a wide waistband, which allows you to stay comfortable throughout your runs and workouts!
Casual Denim Shorts
Denim shorts are a staple in everyone's closet. In one style or another, I am sure you have at least one pair of cute denim shorts that you love to wear in summer.
If you don't, then you're missing out. Not only because denim looks cool and trendy, but because it is also very comfortable and can be paired up with so many tops and styled in so many ways!
This pair of red casual denim shorts are a great way to introduce denim into your closet. Giving you a super soft fabric, and a very chic style, these shorts are amazing for casual outings!
You can pair them up with a button-down shirt, a polo shirt, a graphic tee, or even a sexy tank top! Add some funky jewelry, flats, sneakers, and a cool pair of sunglasses, and you have yourself a stunning summer outfit!
Neon Running Shorts
These shorts are for those women who have a quirky and fun personalities, and are bold enough to express their personal style with confidence!
Donning a pair of neon running athletic workout shorts isn't everyone's cup of tea and not everyone can pull off these bold shorts. With a slight inseam, these shorts are perfect for running.
They have a soft and breathable fabric, which is also stretchy so it doesn't cramp up your legs while running. It is also super breezy, so you don't have to worry about any rash due to perspiration, because these shorts will keep you dry and comfy throughout!
You can also wear them for your gym workouts. Add a nice tank top, and a pair of neon sneakers, and you're good to go!
Ripped Denim Shorts
If you are looking for a pair of incredibly cool and stylish ripped denim shorts, high-rise denim shorts are made exactly for you.
The distressed pattern gives these shorts a boho kinda style. Which is what some hip people would prefer over simple and plain shorts. It gives the whole outfit an edgy touch, and if you want to give out some bold, edgy vibes, then this is it for you!
Pair it with cool, funky t-shirts or tank tops, throw on some edgy heels, drop earrings, and dark makeup, and you have yourself a funky rock concert look!
Geometric Pattern Workout Shorts
If you feel very edgy and bold, you can try out these shorts with a geometric pattern. It isn't a classy look, but it surely is something fun for quirky and wildly edgy people.
Paired with a black tank top, and some neon sneakers. A very unique and cool outfit will be ready for your next gym workout!