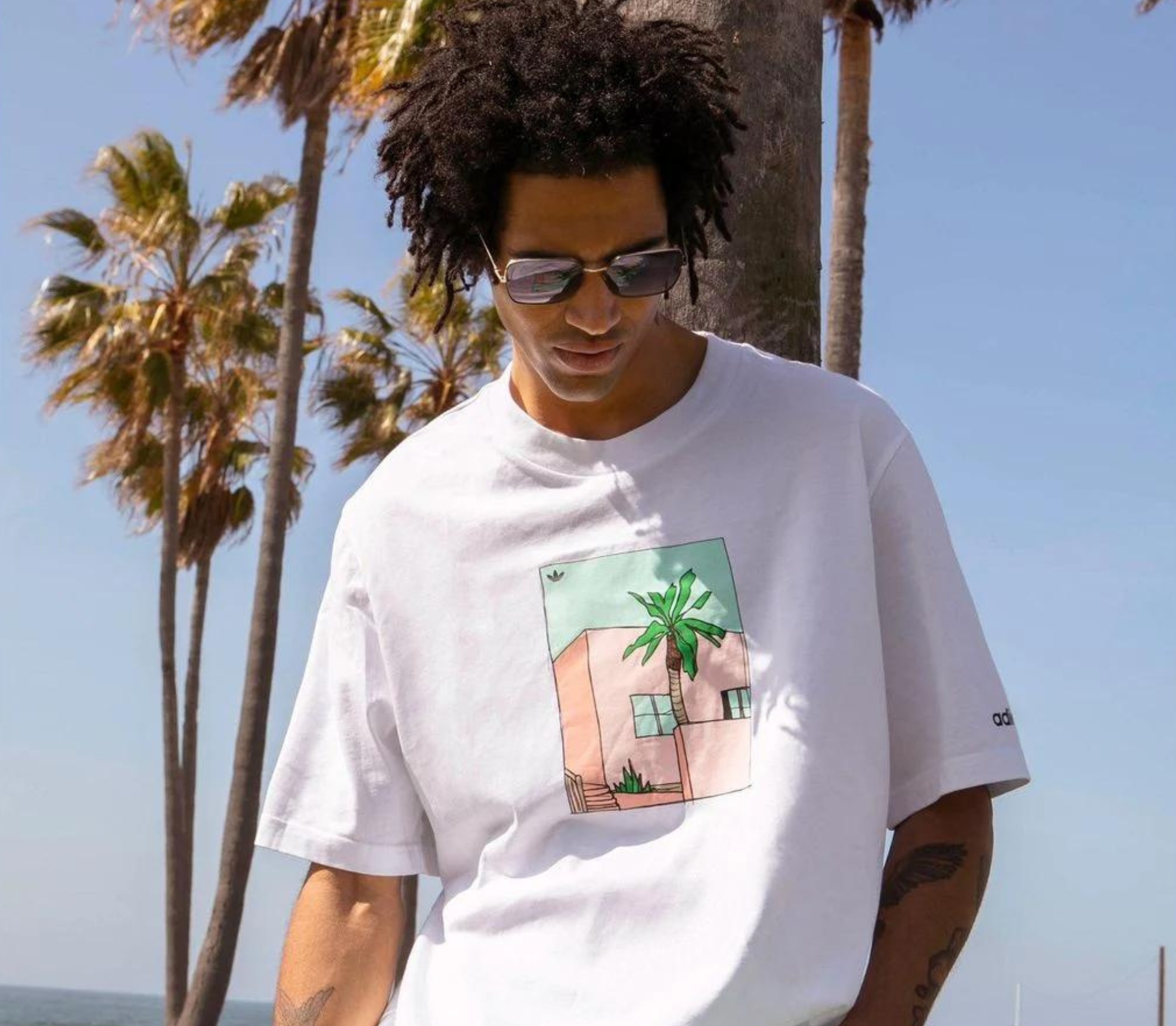 Are you here searching for the most comfortable and stylish graphic t-shirts for men? Well if so don't worry because I am here with the top 5 graphic t-shirts for men by Adidas.
Incredibly chic and breezy, these t-shirts will become your favorite summer outfit because not only are they super cool and fun, but also light, airy, and soft enough to keep you feeling fresh and happy!
Brand Logo Graphic T-Shirt
Nothing is better than a simple, plain brand logo t-shirt for your casual outfits. Especially for your gym workout sessions or morning runs, this Adidas logo graphic t-shirt is a perfect fit. It is cut out for this– a breathable cut, athletic design, and a banded collar.
You can wear them on your jogs, paired with some sassy jogger pants or sweatpants. You can even wear this one with some nice grey workout shorts or running shorts for a more breezy and athletic look.
Accessorize this outfit with a Fitbit, an armband, and perhaps a pair of snazzy joggers. You can even wear this graphic t-shirt with some casual slacks for a basic day outfit. Don't forget to wear a watch and some cool sneakers to go with it!
Solid Graphic T-Shirt
One of the most common and sophisticated styles of graphic t-shirts is a solid pattern. With a solid base, you can add anything to make it more suitable to your personal style. For instance, this red shirt has a solid base with a phrase written on it.
You can get the same solid base shirt and get your favorite quote or logo printed on it to make it especially suitable for your taste.
This short-sleeved t-shirt is a great way to strut around the streets with utter confidence because no matter how you wear it, you are sure to steal the show. That's because it fits your body perfectly and that silhouette it gives is to die for!
Match it up with some cool cargo shorts for a super casual look, or if you want to stay a bit modest and classy, go on and try it with a pair of black pants. Don't go too overboard with the accessories– you don't wanna look like a try-hard.
Just a simple wristwatch, perhaps a pair of sunglasses, and some comfy shoes would do the trick! Get your hands on this graphic tee, it is definitely a must-have for your casual hangs.
Heathered Graphic T-Shirt
If you are looking for a basic shirt for your loungewear or your gym wear, this heathered graphic tee is the solution to your problem.
Incredibly airy and comfortable, you would feel like floating on a cloud when you wear this. It is made up of light fabric, with a heathered texture that gives it an even more washed-up, casual kind of look– perfect for everyday wear.
You can add a pair of navy shorts or casual jeans with the accessories of your choice to finish off the look– perhaps a baseball cap, a bracelet or a band, and some super cool shoes of course!
Tie-Dye Graphic T-Shirt
For someone who has a fun and quirky personality, this tie-dyed graphic t-shirt is the perfect fit. If you're not afraid to show off your funky side, then get your hands on this one-of-a-kind shirt that would go well with any pair of pants, and would look amazing at concerts and parties.
You can even wear it at home and feel comfy in your favorite shirt– especially for those who love a burst of color! It would go perfectly with some lounge pants at home, but when wearing them at a beach party, pair them with some board shorts!
For concerts, go a bit more bold and funky, and wear white pants with them, along with some neon sneakers and wristbands!
Graphic Print Graphic T-Shirt
A truly basic yet classy type of graphic t-shirt for men. However you style it, you can never go wrong with a graphic print graphic t-shirt.
Wear it beneath an unbuttoned flannel shirt for more shopping and movies kinda look, but if you're just hanging around with your pals casually, wearing it on its own is more than enough.
Pair with some sassy jeans or white pants, some street-style sneakers, and perhaps some other accessories that you wish to add, and you have yourself a perfect casual outfit for the evening!