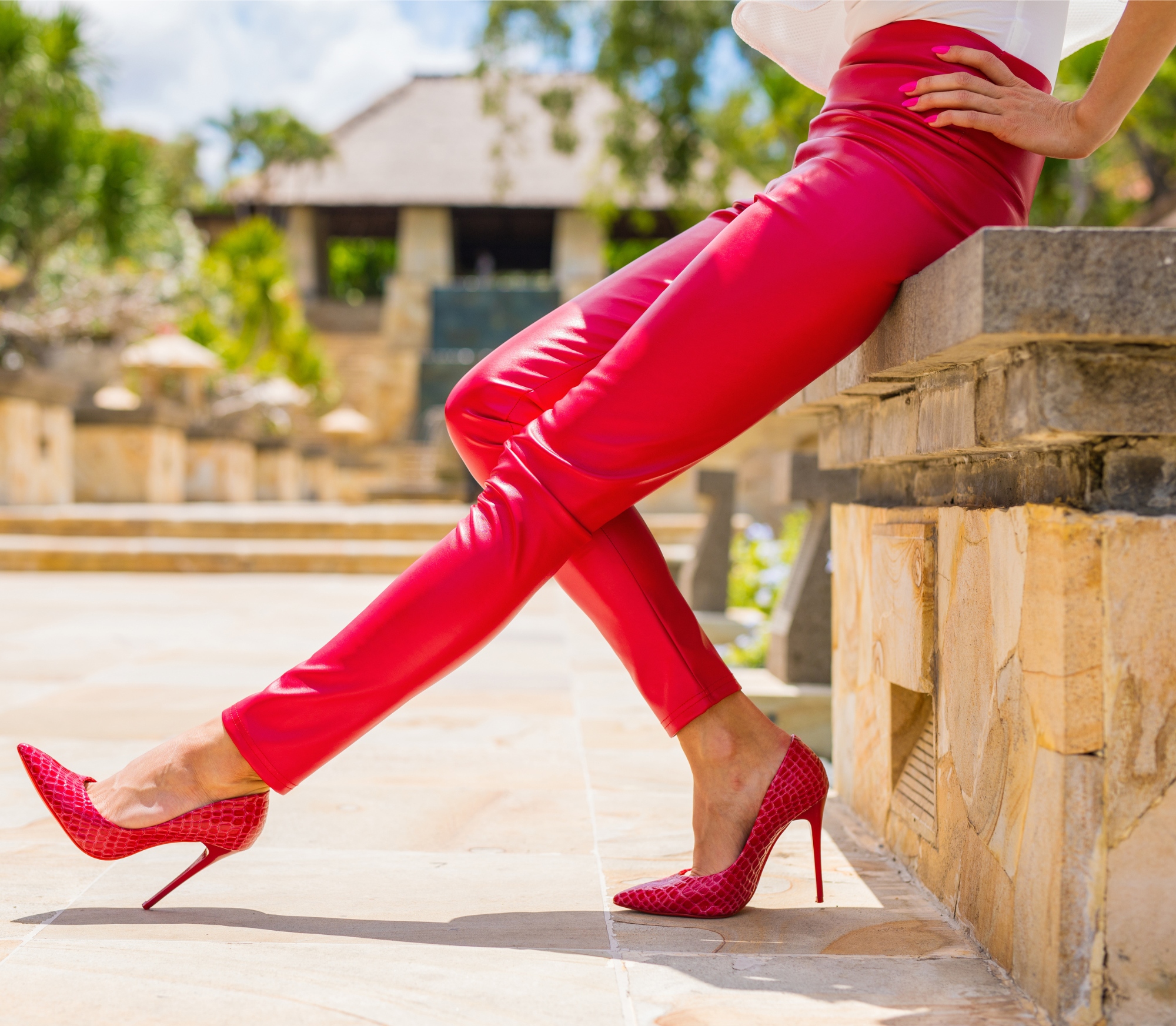 I think it's a pretty common reflex to buy a lot of tops and blazers that you can pair up with that years-old pair of pants your mom gifted you but have you ever thought about styling the same top with a variety of different pants and leggings?
The idea sounds baffling now, doesn't it? But I bet your opinion will change once you have a look at some of these amazing designer leggings for women that you can pair up with your favorite tee! Along with that, I have also compiled a few styling techniques for you that will help you in donning your pants fashionably!
Velvet Casual Pants
There are so many styles and cuts of pants available in the market now that one single top can be styled with two different pants and both will look like completely different, new outfits.
These velvet slit pants are great for formal night parties and date nights. You can get these in three different colors. The fabric is great for the winter season– when most of your outfits get ruined by the harsh weather, this classy piece will be your savior!
Style It With:
A Silk Blouse
Velvet goes great with silk and the cut of these pants will pair perfectly with that silky blouse. Put it together and it will make stunning date night look for you.
Statement Earrings
When adding some bling to your outfit you can never go wrong, what's better than a pair of the best statement earrings?
These velvet pants ask for some sophisticated yet classy studs or earrings and nothing is better than these beautiful rhinestone earrings!
Stylish Stilettos
When your pants are luxe, your shoes ought to be luxe too, and what screams luxury more than some silver stilettos, right?
The slit in the front of the pants makes them the perfect pair to be worn with high heels. Stilettos will look ravishing at a dinner party or a date. Just like that, you have the perfect outfit put together!
Add A Coat Or A Blazer
One way to style those luxe velvet pants is to throw a classy blazer over your blouse. It will keep you warm and it will add some class to the whole look as well.
This sassy embroidered blazer will spruce up the look of your whole outfit and the colors in the embroidery will flawlessly compliment the pants and the blouse! It's a perfect fit for fall and winter and I am swooning over it!
Black Leggings
Classic black leggings are something that every single woman has in her wardrobe. Not one but multiple pairs of black leggings rest in a corner because when you can't figure out what to wear with your new top, black leggings come to the rescue.
Have you ever thought to take out the poor black leggings and try to put together an outfit by matching something with the leggings and not the other way around?
Let's see how I would style my black leggings and perhaps you can get some inspiration from there!
Style It With:
Cropped Sweater
Leggings in winter are a common sighting, probably because people are comfortable wearing these with simple cotton t-shirts or flowy tunics. The trend is changing now and leggings are getting more popular for the winter season too!
Cropped sweaters are one thing that you can flawlessly pair up with your black leggings and look stunning! The colors of the stripes and the sleeves give it a funky look which is perfect for young girls.
Button-up Blouse
If you want a formal on-the-go look– maybe for the airport or a work meeting- you can pair the classic black leggings with a nice cotton or polyester button-up blouse!
You can tuck in the shirt either full or halfway depending on the occasion. Pair it up with some soft makeup for a formal and classy look.
You can also wear this casually, tucked out– long shirts which will go great with classic leggings. It will make a great outfit for a nice day in with your partner– all cozy and yet beautiful!
Flat Sandals
Your shoes are a very crucial element in putting together a perfect outfit for your evening and with black leggings, some nice flat sandals would look beautiful.
These thin-strap sandals would work perfectly with the classic black leggings– they'll provide comfort and sass all in one!
Chunky Necklace
Accessorizing the right way goes a long way. That's what I always tell others, that's why I love to add some statement jewelry to my basic outfits so that they become not-so-basic.
Adding a nice chunky necklace with your classic black leggings is a great way to make a simple outfit look classy!