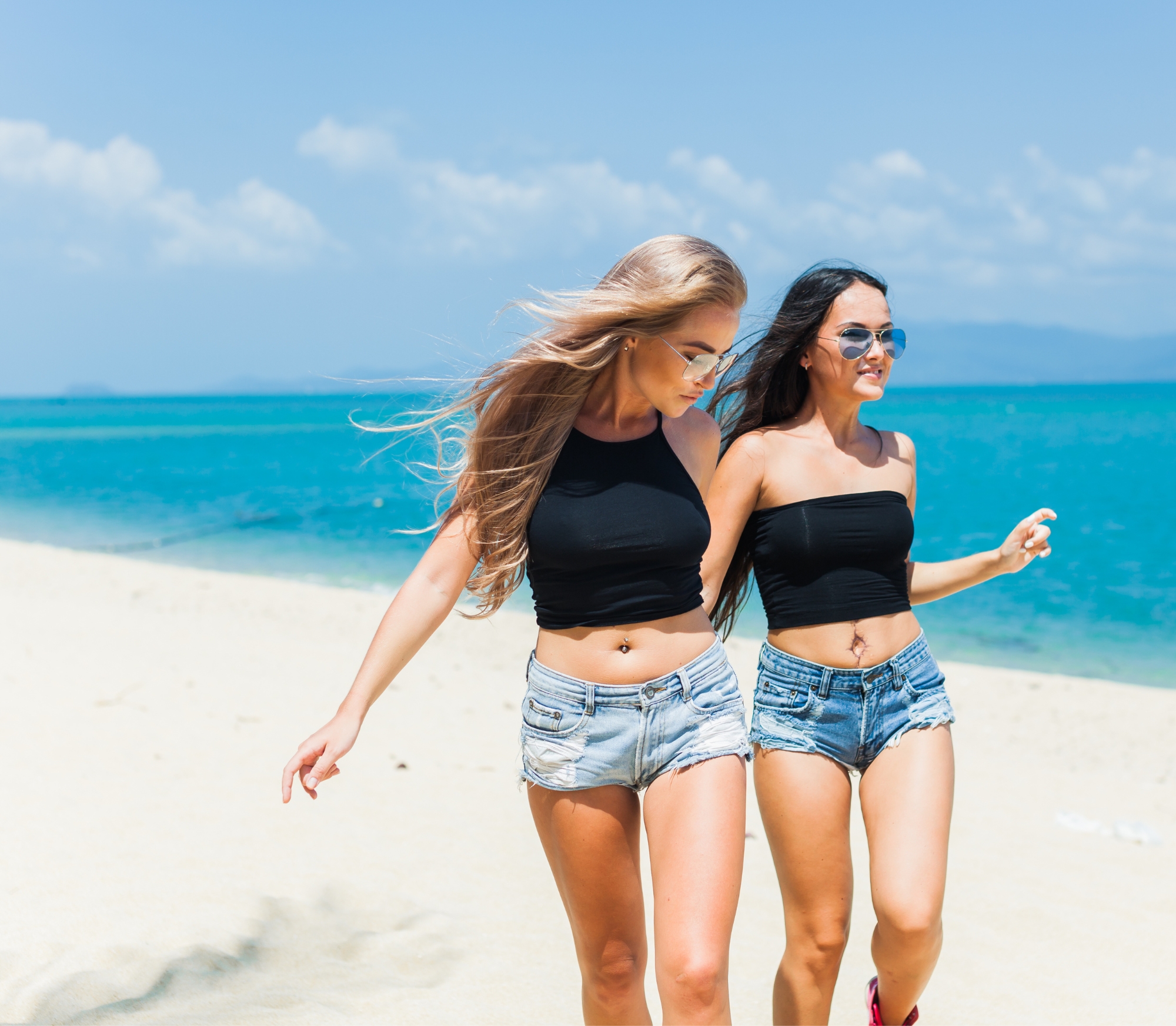 As summer is approaching, ways to beat that sticky summer heat this season is all we have on our mind these days. The warm season can be a real struggle to shop for, but tags weekly has you covered for all. The supreme seasonal classic: high-waisted denim shorts should be your go-to option for sweltering heat and humidity this summer. It takes time to land on the perfect fit of a high-waisted denim short, but worry not! We tapped the 10 best high-waisted denim shorts in 2022 available at tags weekly for you to quickly slip them in and rock 'em like a queen.
Cut-Off Casual Denim Shorts You Will Love
Head over to the premium denim brand Hudson to find women's clothing made cute, comfortable and soft just for you! Check out these casual cut-off denim shorts inspired by boyish shorts. Styling these cut-off denim shorts is a no-brainer. Get your hands on a white button-up blouse and pair it with any brown sandals you love, and you're all set. Whether you're going to your favorite band concert, or a state fair, arriving in these cut-off shorts will have all eyes on you.
High-Rise Shorty Casual Denim Short
A high-rise denim short is easy to pull off. They allow you to rock your favorite lifesaver bralette without exposing a greater amount of skin. Layer it up with a sheer button-up and you are good to go!
Floral Patched Casual Denim Shorts
Got the blues on a hot summer day? What you're missing is a touch of flowers around you. While it may sound impractical, wearing patterns and florals can instantly lighten up your mood. Pair this floral patched denim short with a plain hot pink crop top to add color to your day and make you feel a bit chirpy.
Ruffle Denim Short
Ruffle your feathers with our ruffle casual denim shorts. These ruffle denim shorts look feminine and romantic at the same time. Revamp your look with a white loose-laced shirt, a denim jacket over it, and a straw hat to pull off a more refreshing look. Accessorize with a tote bag in hand, pairing up with black sandals. Donning your favorite pair of cool glasses will make you look more aesthetic.
Best Embroidered Casual Long Denim Short
Long denim shorts are as versatile as the spring weather, as it keeps changing every hour. These provide enough coverage for the legs if it gets a little more like sweater weather. Put on a simple muscle tee with a blazer on top. Slip in white mules to walk briskly and confidently, and look effortlessly chic. These are of perfect length for moms if they're chasing kids around all day. They also set the bill for family-friendly shorts due to the higher length cut. Bingo!
Best High-Waisted Denim Short
High-waisted denim short screams summer! These make you look incredibly slimmer and more balanced. To rock this high-waisted denim short, pair it with an off-shoulder top, and let your hair hang loose on the sides. You certainly don't have to limit yourself to sandals when you own beautiful leather ankle boots. Moreover, opting for a pair of high heels will elevate the look to model status.
Doll up with the Casual Doll Denim Short
Give your PJs some rest and lounge around in these comfortable high-waisted denim shorts. These look super cute with your frequently worn t-shirts. These timeless shorts don't require much effort in styling if you're headed for a quick coffee date. Grab the sexy-looking cardigan and leave a few buttons unfastened. And you're all dolled up for the date with a hint of soft make-up.
High-waisted biker short
Biker shorts can be fun to style as they offer many options to play them with. Whether going to the gym or running errands, biker shorts will always root for you. Remember that biker shorts are not only for men, but women can also dress them up.
Go all Hippie
Get these ripped denim shorts to add a touch of hippy, rough, tough, yet youthful feel. Style them with a white button-up shirt with a printed olive green oversized sheer kimono. Wear grey suede ankle boots and wrap up the look with a cool bead necklace.
Suit Up with The Best Belted shorts
To keep yourself cool on a scorching summer day, pick this classic white denim belted short. There's something about white that evokes a sense of purity, simplicity, cleanliness, and sophistication. Plus, dressing up a white piece of clothing requires less prep time. Adding a bold black belt with the white belted denim shorts and your beige pink top tucked in will give you the extra polished, sleek outlook you've been looking for.