Yes, it is swimwear season. It is time to embrace the hot weather with open arms, and hit the pool and beaches people. But it is more than just wearing any swimwear. Just like it is during winter, it is a very delicate season and careful thoughts should go into your purchase or selection of swimwear. If your old swimwear has served its time, and you've decided it's time for a new favorite swimwear, we're here to help you with that decision.
My Favorite Swimwear
Your favorite swimwear doesn't have to mean you have worn it every summer for the past five years. If you are in the market currently on a swimwear shopping spree like everyone else, there's a lot to consider to get your favorite.
Different strokes for different ladies, but we are positive we have one or two insights to share. Let's go grab my favorite swimwear!
Best Swimwear brands 2022
One way you can rest assured of getting your 'favorite' swimwear this summer is if you get it right brand-wise. Shopping for a swimsuit is not easy, narrowing down your search is a first to easing the stress.
If you must do that, we suggest you do it right. Don't worry, we got you. Here's a few of top luxury swimwear brands we can recommend:
Tavik
Nike
Eres
Gucci
Aerie
Solid & Striped
J.Crew
Andie
Haight
Fisch
The above brands have been making waves this year and we are loving it. They are widely known for quality, top-notch styles and most importantly, size-inclusivity. Rest assured making your swimwear purchase from any of these lines and you are all set for summer!
Affordable Swimwear Brands
We also get it that 'favorite' from some persons might mean quality, but also affordability. Nothing should stop you from getting that swimwear of your choice this summer. And if pocket friendly is what you are looking for, here's a few mentions we trust with prices less than $50.
Zara
Target
H&M
PrettyLittleThing
Abercrombie & Fitch
Best Swimsuits 2022
Routine can be boring. There are times you want to go out of your comfort zone and shake things up. Tired of wearing the same style every summer? Check out these trendy 2022 swimsuit styles you've been missing out on!
The wondrous Wrap
This trendy wrap suit is definitely one to jump on this summer. We recommend this for plus sized beauties or if your body belongs to the apple category. It is designed to wrap up the mid-section area, to give more attention to more legs and the curves.
The angled straps snatches up the waist, but still keeps you comfortable.
The Coveted Classic
You should totally dig this if you belong to the hour glass family.This swimsuit gives off a 'retro' vibe, but who says it isn't the new modern?
This one-piece is crafted to hold up each feature of your body shape gracefully, give maximum support and add adequate covering to the bottom area.
The Ravishing Ruffle
Maybe this is the season you need a break from string bikinis. You want to cover more flesh but also do it with style and grace. We would suggest you get on this train.
Rectangle shaped ladies can get away with anything and can pull off creating some feminine curves with this ruffle swimsuit. It pronounces the bust area, channeling the curves around the waist and bottom area.
Bold prints, patterns and loud colors totally rock.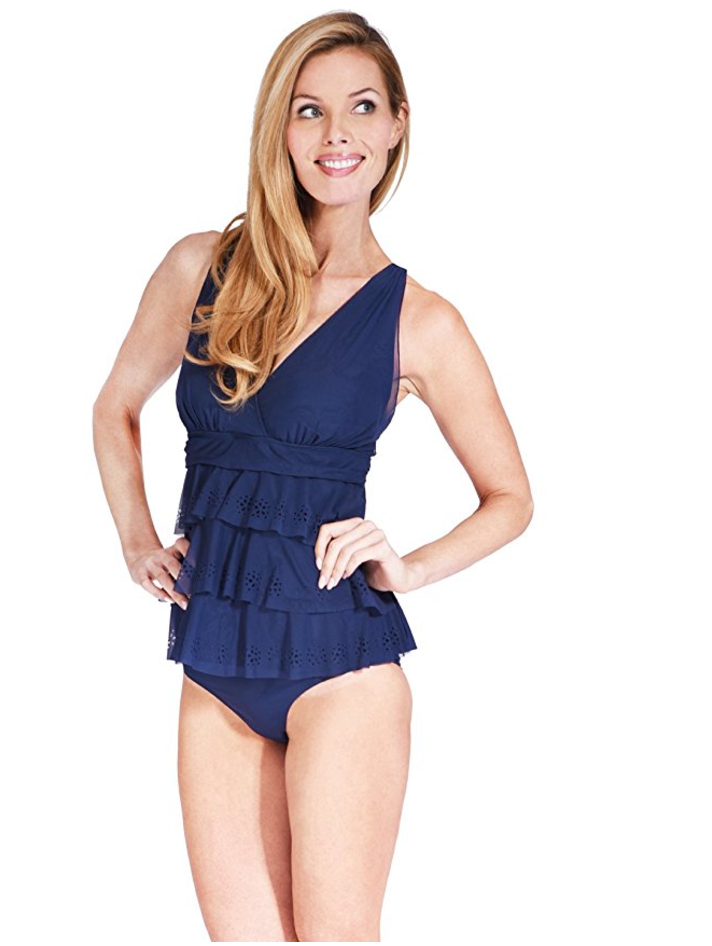 Conclusion
Getting your favorite swimwear doesn't have to always stress you out, if you look for the right things and in the right places. One thing we advice; make sure you have a blast this summer.