What's that one item that ladies adore more than diamonds? Well, we are betting you know the answer already! Crop tops have been a popular fashion choice and have become increasingly trendy in recent years. They cover the majority of any woman's closet and are unquestionably a "yes" must-have! In society today, everyone wants to be seen as stylish and hip, but we don't have a lot of spare time to dedicate to our appearance. The crop tops' resurgence has made it much easier for ladies to pull together beautiful outfits! They're making a comeback in the closets and hearts of many women.
Let's move on to some of the most fashionable ways to wear a crop top.
Off Shoulder Crop Top
With the entrance of spring and the forthcoming monsoon season, you should expect an increase in humidity. Dressing in loose-fitting garments is the best way for us to make the rainy season fashionable. Crop tops are a natural way to style any piece of clothing and have become a fan favorite with their enduring popularity. Moreover, an off-shoulder crop top that fits well is an essential component of any collection. Off-shoulder crop shirts are becoming increasingly trendy for any occasion, whether coupled with jeans and sneakers for a laid-back approach or a midi skirt and high heels for a more formal look. You will surely raise the bar with confidence and style once you find that crop top that compliments your body type!
Backless Crop Top
Since the 1920s, women's tops have featured exposed backs which lead to the broad acceptability of backless apparel for women. Backless crop tops have always been trendy and are go-to choice for many women.
Graphic Crop Top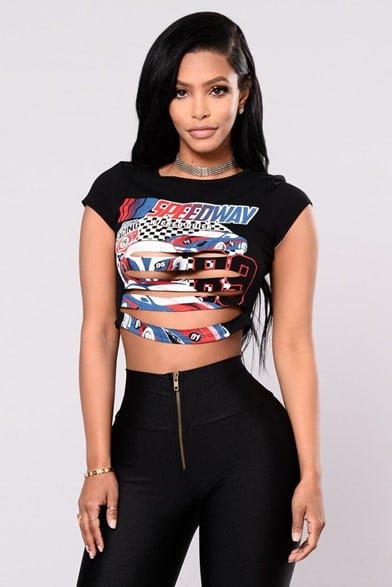 A crop top with a graphic print offers a distinct look and opportunity to pair your shirt with jeans and pants. Whether it's in your spring-summer collection or just your casual go-to crop top, adding a graphic picture is a creative approach to show off your artistic side. Individuality and inventiveness are essential to the fashion industry. Whether or not you have the courage to go exploring. You should never be hesitant to exhibit your originality via your clothes. Maintain your regular routine while you investigate the uncharted territories of the fashion industry.
The Casual-Chic Look
Crop tops are perfect for going out and about in a relaxed setting. Who said being casual meant being uninteresting? When it comes to wearing a casual-chic look, you can never go wrong by pairing your favorite pair of jeans with a simple or patterned crop top.
Formal Fashionista Look
Most people associate formal clothing with the boring combination of shirt and trousers. But why not breathe new life into those tired old formal outfits by giving them a new spin? Crop tops may be an outstanding choice for business attire. If you match your crop top with the right slacks and accessories, you can make everyone in the office take a second look.