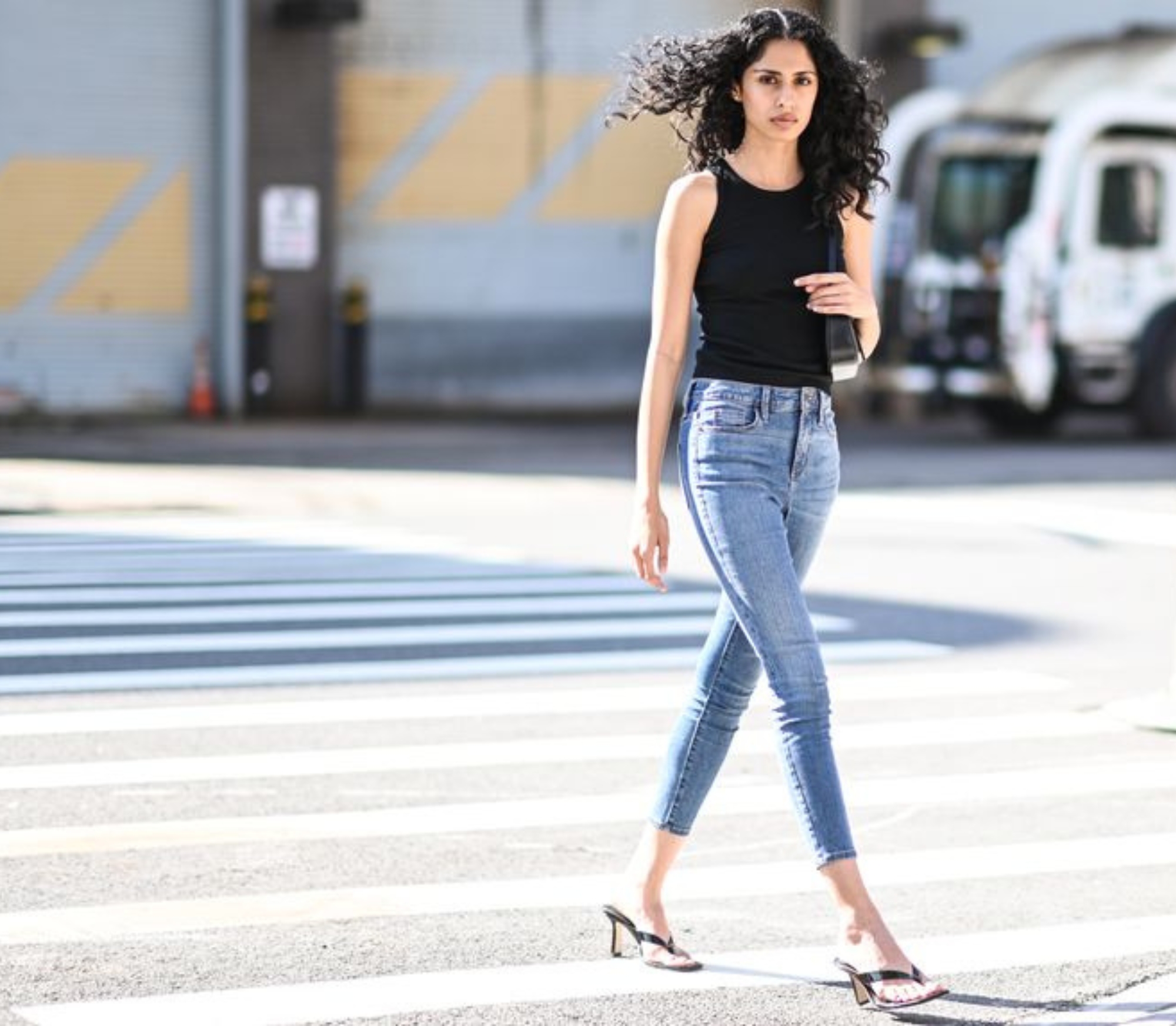 Skinny jeans have been getting a lot of popularity, mostly because you can literally style them with anything, in so many unique and creative ways! It brings out the fashion designer in you and you can create cool and snazzy outfits for all occasions.
I use various tops with the same pair of skinny jeans and each top gives me a whole new outfit look, and if you accessorize each look differently, that just gets you 2 more outfits for your evenings out!
Let's look at some of the trendiest skinny jeans and find something that fits your personality!
Articles Of Society Cropped Skinny Jeans
Super cute skinny jeans can be your life-saver most of the time. If you are unsure what to wear to a lunch your friends are getting together for, a pair of skinny jeans with a cute flowy blouse or a simple tank top and flannel shirt would make up a really stylish outfit for the occasion.
Perfect for casual outings, this pair of cropped skinny jeans offer comfort and style all in one. Moreover, the light color makes it suitable for pairing with pastel-colored tops and if you add some sassy shoes to it, you're all set!
Articles Of Society Velvet Skinny Jeans
Velvet is a very luxe and elegant fabric to wear– perfect for formal and important events. These stunning velvet skinny jeans are fabulous for a date night out with your significant other. Pair it with a bold strapless blouse, some sexy high heels, and some statement jewelry and you are surely making him fall for you!
The good thing about this pair of jeans is how soft it feels on your skin. You don't feel suffocated at all, and it is a great fit for winter, so you get even more options to style it fashionably!
Articles Of Society High-rise Skinny Fit Jeans
If you're a modern woman, you know how popular and stylish high-rise skinny jeans are. Paired with the right top, you can rock this pair of high-rise skinny-fit jeans effortlessly. These jeans are probably the right fit if you are looking for something to wear on your movie date.
Throw on a ruffle blouse for a chic, traditional look but if you are looking for a more modern and sassy look, a fitted, ribbed, olive green crop top would be a great match for it. Moreover, throw on some sassy drop earrings, a chunky necklace, and a chunky bracelet along with some cute combat boots, and you're all set!
Articles Of Society Distressed Skinny Jeans
Some distressed jeans can work greatly with the right top for a boho and funky look. Add a pop of color with a cute red halter-neck top. You can also wear a basic tank top with a flannel shirt, unbuttoned– it makes up a very snazzy nightlife outfit!
Articles Of Society Self-Print Skinny Jeans
You can get your hands on these self-printed skinny jeans for something more bold and feminine. They have a floral print on them which makes them great spring wear. Moreover, you can add a quirky t-shirt for a basic look, or you can wear a ruffled blouse along with some cute, beaded jewellery and wear this pair to a concert!
Free People Busted Knee Skinny Jeans
Shop women's free people skinny jeans to upgrade your wardrobe the right way! Free people have a great collection of skinny jeans– vintage style, boho style, modern fit, you name it, they have it.
These busted-knee skinny jeans are perfect for your everyday wear; whether you're going out with your girls or hanging out at the nearest coffee shop with your book, this stylish pair of jeans is exactly what you need!
Free People Faux Leather Skinny Jeans
Finding something cool for your winter outfits can get a bit hard. But don't fret, because these faux leather skinny jeans are exactly the kind of thing you need to add that glimmer onto your outfit!
Pair this sexy pair of leather jeans with a white button-up shirt, and wear it to your work. You can also style this jaw-dropping pair of jeans with a bold blouse and a bomber jacket. Perfect for clubbing and sexy date nights with your significant other!