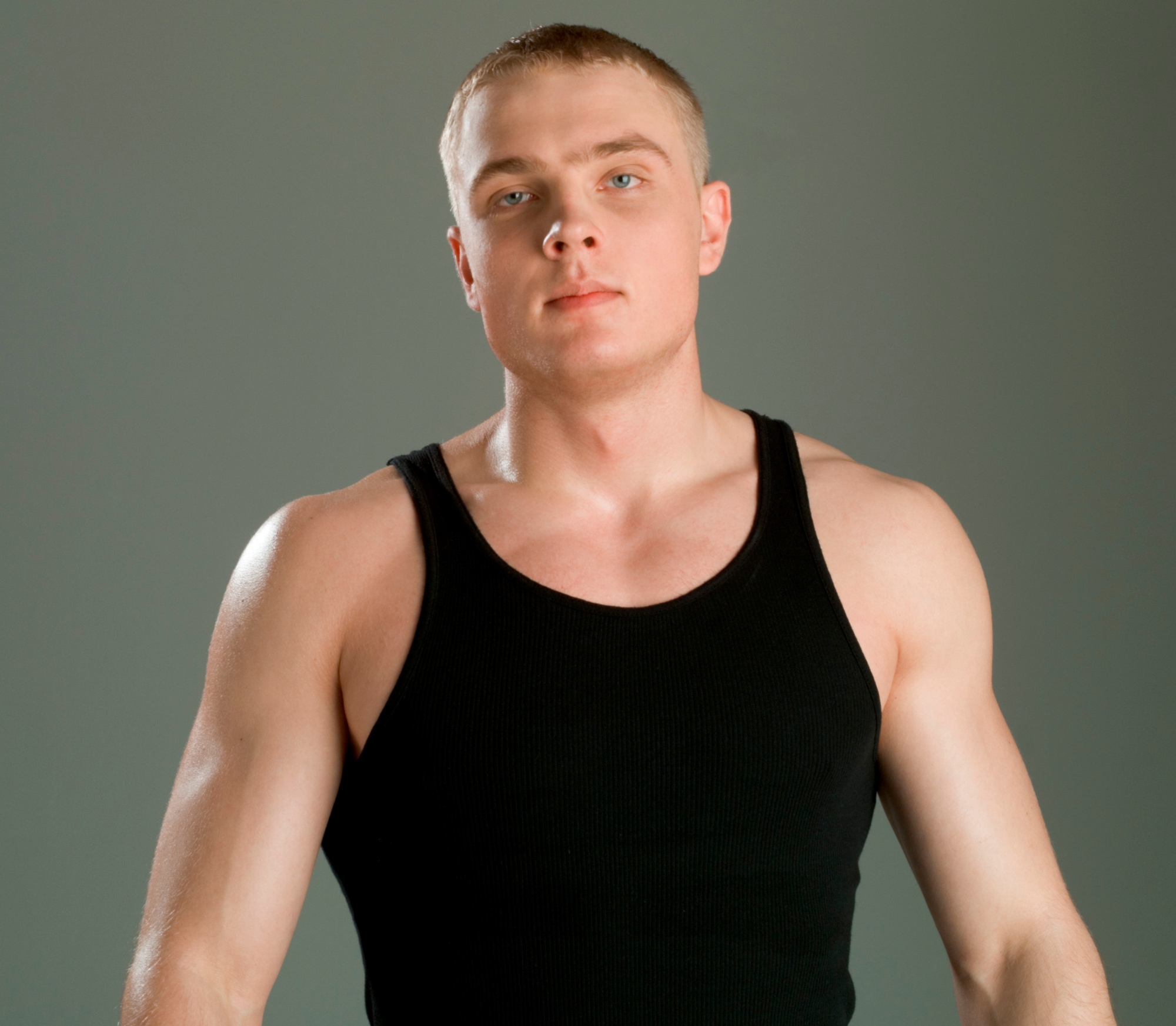 Tank tops are a summertime must-have! They are lightweight, easy to throw on and can easily be styled for a casual, everyday look. When looking for shirts and tops for men online, don't forget to pick up a few tanks so you stay in style. We've put together a list of the 14 best tank tops for men, so keep on reading.
1. A Little Printed Tank Top
Printed tank tops are a great wardrobe staple and suitable for hot summer days. You can easily find prints that suit your personality, so such a tank will serve you well. Style it with a pair of jeans and sneakers to head out the door.
2. Striped Tanks For a Casual Vibe
When talking about tank tops for men, we can't forget to mention a striped tank. We personally recommend styling a striped tank top with shorts and flip-flops for a beach-appropriate look.
3. White Neutrals Are Always Trendy
When in doubt, sport a simple white men's tank top! You can easily take your outfit to the next level by tucking your shirt inside some formal jeans. Just like a white t-shirt, a white tank is extremely versatile and can be styled under button-down shirts or worn on its own.
4. Pop of Color with a Tank Top
Add a pop of color to your outfit by picking out a fun-colored tank top. You'll definitely be the talk of the town with this bold fashion choice. Style this tank with brown pants as both these colors will compliment each other super well.
5. Something Blue
If bold color is not your cup of tea when it comes to shirts & tops for men, then you can stick with a tank top in a navy blue shade. It'll pair perfectly with cargo pants, white sneakers, and some sunglasses.
6. Show Your Pride Support
Let everyone know you support the pride community by sporting a graphic tank top with a rainbow printed on it. Best to wear this men's tank top during Pride month.
7. Feel the Tropical Vibes
Get in the mood for summer by opting for a summer inspired tank top. We are thinking about something with palm trees printed on it to really capture the essence of the season. This tank top will be a beach staple for all men.
8. Tribal Touch Men's Tank Top
For men who want to add a tribal touch to their outfit, go for a tank top that offers a similar vibe. You'll most likely not find many people with the same style sense as you, but that's what makes it so unique.
9. Activewear Tank For Workouts
Stay cool and collected with a men's activewear tank top! Whether you like working out in the gym or prefer going for a run every morning, an activewear tank will serve you well. You can style it with track pants and a fanny pack for a street-style appropriate look as well.
10. A Hooded Tank Top For a Statement Look
A hooded tank top allows you to create a statement-worthy outfit by opting for something that isn't so common. You'll surely be looking street chic in such a piece. Pair with distressed jeans and create an everyday casual outfit.
11. Stay Classy with a Black Tank Top
Black is always in style, which is exactly why you need a black men's tank top in your collection! When shopping for shirts and tops for men online, don't forget to add a black tank to your cart.
12. Your Favorite Hiking Partner
Love going on hikes? You need a heavy-duty tank top to accompany you! Pair with workout shorts or pants and your favorite hiking shoes.
13. Something Yellow For The Sun
Beat the heat but stay in style with a cool yellow colored tank top! If you are heading to the beach, pair this tank top with tropical-printed shorts and flip-flops. This outfit is also great for beach or boat parties.
14. Two-Toned Tanks Tops Are So Cool
For our last pick, we have a color-blocked tank top for you! It's something different than a solid-colored tank and allows you to create a trendy outfit for the hot summer days.
We hope you find something that you love in our list of the best tank tops for men in 2022!