Undoubtedly, every individual owns a pair of jeans. It's because the outfit is versatile and durable. Jeans are also available in different styles, hues, sizes, and shapes. But, when it gets to styling jeans, most people go wrong. Of course, when you want a casual look, combining your jeans with a graphic tee is the most effortless way to do this. But hold on. Have you ever wondered about mixing and creatively matching jeans?
Jeans aren't just for the weekends or casual events only. Instead, you can combine them with different outfits to suit all occasions. Let's now focus on how to mix and match jeans to fit other events perfectly.
Match Skinny Jeans With A Ruffle Top And Heels
You'll never go wrong with skinny jeans, open-toe heels, and a ruffle top. Then, to complete this look, add a few accessories.
Black Ripped Jeans Plus A Printed Blazer And A White Top.
Another unique way to mix and match your jeans is pairing your ripped jeans with a chic blazer and a white top. If you want to make the combination a statement piece, go for patterns instead of solid colors.
Combine Your Long Jeans With A Puff-Sleeved Top And A Structured Bag
Here's another way to add flair to a pair of jeans. A puff-sleeved top with long jeans and a couple of heels is a stylish vibe. If you're planning a casual event and want a unique style, opt for the above ensamble.
Frayed Edge Jeans Matched With A Graphic Tee And A Jacket
Again, you can amp up your jeans with a graphic tee and a jacket. Though it may sound weird, the combination is perfect enough to show the world how stylish you are. For the best results, pick an appealing jacket, a classic bag, and heeled boots.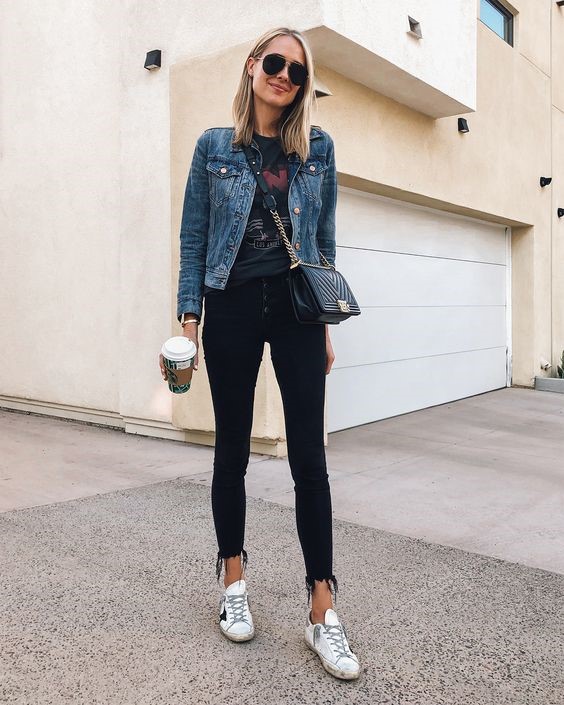 Match Your Skinny Jeans with Heels And A Solid Blazer
When you plan to stay classic but keep your pair of jeans elevated, here's what to do. Combine it with heels and a blazer. Many people around the globe embrace the combo. It's because it's an incredible ensemble and work-friendly.
High-Rise Skinny Jeans Matched With Heels And An Off-The-Shoulder Top.
This is the way to go when going for your first date and you want to have a striking appearance. The combination makes you coordinate, stylish, and classy. You can add some lipstick when you want to make heads turn in admiration.
Boyfriend Jeans Plus A Loose-Knit Jumper And Open-Toe Heels
When you feel adventurous, here's another way to mix and match your jeans. With this combo, see to it that your waist is defined. Then, roll your boyfriend's jeans cuffs up at their bottom to reveal some skin.
Straight Leg Jeans Matched With A Top And Heels
The combo is always irresistible. Straight-leg jeans cinch the waist perfectly to give a woman an hourglass figure. Add a classy top and heels if you want to look more youthful.
The Key Take-Away
The above ensembles are cool and classic enough to upgrade your beloved jeans. Since jeans have been on the trend and this doesn't appear to end soon, you need to give them a chic look. You'll get a polished appearance from the above combinations regardless of your style. To make your shopping experience easy, we recommend you buy mix and match jeans from tagsweekly.com.